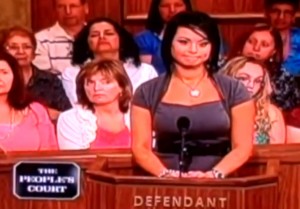 On Monday's Today show, Lilia Luciano profiled the strange case of Michelle Parker, a Florida woman who has been missing since Thursday. The last time she was seen? On television, as a defendant on The People's Court.
The episode that Parker appeared in — where she was disputing having to pay for a ring given to her by her ex-fiance, Dale Smith — was taped earlier, but aired for the first time on Thursday. Later that day, her brother received a one-word text from her, saying "Waterford," which is a neighborhood in Orlando. Family members thought this was suspicious because Parker usually writes a lot, and sprinkles in emoticons in her texting. According to Luciano, Parker didn't show up for her bartending shift at 7 p.m. Thursday, and she hasn't been seen since that afternoon. Her SUV (a black H3 Hummer, with "GLOW" in script across the back window) was found in a part of town that she didn't frequent.
Parker's family told WFTV in Orlando that Smith, according to investigators, is not a person of interest, and that he's been cooperating fully with authorities. Parker's mother said that, "they have found absolutely no evidence that there's any foul play on his part."
As for the episode (which can be seen here in a very low-quality recording), Smith was looking for $5,000 back for the engagement ring he gave Parker — which she threw over a hotel balcony in an alleged drunken fit of rage. Judge Marilyn Milian decided that they should both bear the burden of the ring's cost, while exhorting them to cooperate in the raising of twins they have together. Milian officially found for Smith and awarded him $2,500. In the interview with Parker after the ruling, reporter Curt Chaplin described the relationship as a "fatal attraction," and a somber Parker swore the relationship was over.
Watch the Today report of Michelle Parker's disappearance below, courtesy of NBC:
Have a tip we should know? tips@mediaite.com