Floyd Abrams Smashes DOJ For Investigating Reporters: That's 'Journalism Not Espionage'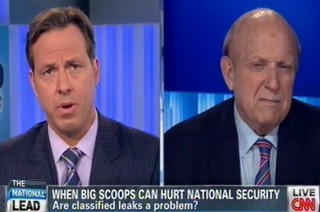 Floyd Abrams, First Amendment expert, attorney , and author (who is also the father of Mediaite founder Dan Abrams), joined CNN host Jake Tapper on Tuesday where he tore into the Department of Justice for subpoenaing the communications records of journalists in a heavy-handed effort to prosecute leakers. Abrams said that naming a reporter, like Fox News Channel's James Rosen, as a "co-conspirator" in a conspiracy to violate the Espionage Act sets a dangerous precedent.

Promoting his new book, Friend of the Court: On the Front Lines with the First Amendment, Abrams told Tapper that he was not impressed by Attorney General Eric Holder's half-hearted admission that he regretted that his department had investigated journalists as well as leakers.
RELATED: Roger Ailes 'Rejects' DOJ's 'Efforts To Criminalize' Fox News Journalists In Memo To Staff
"I do think that the Department of Justice has really overstepped the bounds," Abrams said. "Basically, and in so many words, accusing a reporter of being a criminal — of violating the Espionage Act, no less — for doing nothing more or less than asking questions of a government official about classified material, to be sure, but asking questions and asking to see certain documents about them."
"That's what's normally called 'journalism' not 'espionage,'" Abrams added.
Tapper asked what recourse should be available to the government to protect state secrets from being published. Abrams noted that even the Supreme Court has found that the publication of most leaked secrets is, in fact, not detrimental to the public.
Watch the clip below via CNN:
> >Follow Noah Rothman (@NoahCRothman) on Twitter
Have a tip we should know? tips@mediaite.com