Fmr. Bush AG Urges No Mercy For Leaker: Soviet Atomic Spies Also Thought They Were Preserving Liberty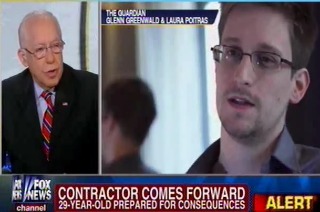 On Monday, Michael Mukasey, President George W. Bush's former attorney general, sat down with Fox & Friends host Brian Kilmeade to discuss the revelations which came out last week regarding the NSA's indiscriminate information warehousing program. Mukasey said that the leaker, Edward Snowden, should be prosecuted. He mocked those who think Snowden is a hero saying that Soviet atomic spies, Julius and Ethel Rosenberg, were similarly lauded in their time.

"Would you go after him?" Kilmeade asked.
"In a New York minute," replied Mukasey.
The former AG said that Snowden has broken the law and betrayed his fellow Americans and the U.S. political system.
"But he did it in respect for liberty and freedom, he says," Kilmeade countered. Mukasey said that the same reasoning justified the actions of the Soviet's communist spies within the intelligence community during the course of the Cold War.
"There are very few people who have betrayed their country who have done so not claiming intelligent and highly moral motives," Mukasey added.
RELATED: NSA Leaker Comes Forward: 'I Have No Intention Of Hiding Who I Am Because I Have Done Nothing Wrong'
Kilmeade noted that Snowden does think he has claim to moral authority because he refused to sell the NSA secrets to foreign powers like Russia or China.
"Gold star for him," Mukasey replied. "That's a mitigation of sentence, as far as I'm concerned. What he did is bad enough."
Mukasey concluded by saying that he was perfectly comfortable with the NSA's PRISM and phone record keeping program. He noted that the government is filtering through a lot of information in order to isolate terror threats and needs to filter his personal information in order to do that.
Watch the clip below via Fox News Channel:
> >Follow Noah Rothman (@NoahCRothman) on Twitter
Have a tip we should know? tips@mediaite.com