Fmr Bush Official Blasts Beck, Bolling for 'Weird, Disturbing' Reaction to Coke Ad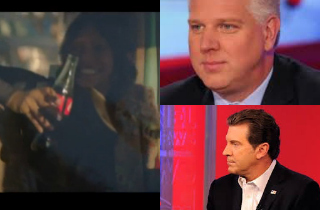 Commentary columnist and former Reagan and Bush official Peter Wehner castigated conservative commentators like Glenn Beck and Eric Bolling for their adverse reaction to Coca Cola's multilingual Super Bowl ad.
Beck accused Coke of "trying to divide America" by positioning anybody put off by the ad as "racist," while Bolling warned Coke that they had messed with the wrong song: "You ticked off a lot of Coke drinkers, you ticked off a lot of Americans."
"What a weird and disturbing reaction," Wehner wrote Wednesday morning. "The ad was hardly 'in your face.' It was in fact an affirmation that people from different cultures and lands and tongues are drawn to America and can love her, not because it's their native land but because it's a special land."
RELATED: Goofy Conservative Pundits Revoke Coke's Status as America's Brand
He added:
This is something that not all that long ago nearly all conservatives would have understood. Yet today the ad by Coke is interpreted by some figures on the right as divisive and offensive, a Trojan Horse for immigration reform, as part of the Culture War. And the unmistakable message being sent by these individuals is that people of other cultures are aliens and threats and are therefore unwelcome. "Keep your mouths shut when it comes to our patriotic songs" is the message Messrs. Beck and Bolling are sending. What a brilliant way to appeal to a nation that is becoming increasingly diverse and multicultural.
Wehner closed by quoting President Ronald Reagan on America's power of assimilation. "His generous and welcoming attitude was worlds apart from what we see in the likes of Glenn Beck and Eric Bolling," he concluded.
[h/t Commentary]
[Image via screengrab]
——
>> Follow Evan McMurry (@evanmcmurry) on Twitter
Have a tip we should know? tips@mediaite.com