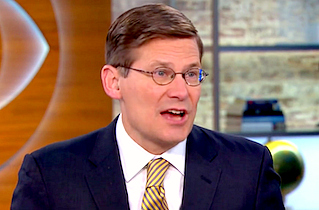 Legendary reporter Seymour Hersh published a major and long-awaited revision of the account of the killing of Osama bin Laden in the London Review of Books Sunday, one which former acting director of the CIA Mike Morell called "all wrong" on CBS This Morning.
In the article Hersh alleges that the Obama administration's version of events is so fictional as to constitute a Lewis Carroll story — his allusion — and that much of what the public thinks of as a daring, all-American raid was actually performed in conjunction with Pakistani officials who knew full well where bin Laden was. According to Hersh the U.S. actually learned of bin Laden's whereabouts not through tradecraft but by paying a Pakistani source close to $25 million.
Not so, sayeth Morell, who stopped reading in disgust. "Every sentence I was reading was wrong," Morrell said Monday morning. "The source that Hersh talked to has no idea what he's talking about. The person obviously was not close to what happened. The Pakistanis did not know….The president made a decision not to tell the Pakistanis. The Pakistanis were furious with us. The president sent me to Pakistan after the raids to start smoothing things over."
Hersh's account appears to be based on a single anonymous source, and was not published in the New Yorker, where he is regular contributor. He has been looked at askance by some in the profession since he called the bin Laden raid "one big lie" in the Guardian in 2013, though he later clarified that he was referring to the administration's spinning of the event.
Morell twice headed the CIA, a government espionage agency boasting a spotless track record and renowned for its candor.
Watch below, via CBS News:
[Image via screengrab]
——
>> Follow Evan McMurry (@evanmcmurry) on Twitter
Have a tip we should know? tips@mediaite.com