Fmr. CIA Officer On MSNBC: Not Enough Information For Security Agencies To Prevent Boston Attack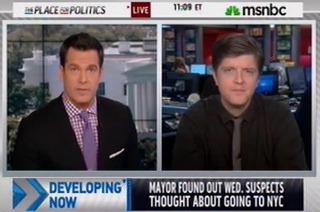 Former CIA officer and correspondent for The Blaze, Buck Sexton, told MSNBC anchor Thomas Roberts that politicians suggesting that American security agencies like the FBI or the Department of Homeland Security could have prevented the attack on Boston last week are incorrect. He said that it would have been impossible or even illegal to surveil the suspects based on the paucity of credible information about the threat the Tsarnaev brothers represented prior to their attack on the Boston Marathon.

RELATED: Sen. Lindsey Graham Blames Obama Admin Failures For Successful Boston Attack
Roberts cited Rep. Peter King (R-NY) who said that authorities had withheld information relating to the Tsarnaevs' plan to take their remaining explosives and detonate them in New York City's Times Square. King called the lack of inter-agency intelligence sharing "indefensible."
Sexton said there are legitimate and operational reasons why agencies may not share intelligence, as well as the more parochial reasons like turf protection.
Roberts asked if the administration's critics, like Sen. Lindsey Graham (R-SC), were correct in suggesting that the red flags raised by Tamerlan Tsarnaev's visit to Russia and Moscow's warnings about his increasing radicalization meant that the U.S. could have prevented the attack on Boston.
"I'm not so sure," Sexton replied. "I wouldn't be as hard on law enforcement as he tends to be right now based on the information we have."
Sexton said it was "concerning" that Tsarnaev's travels to Chechnya did not result in added scrutiny by American security agencies, it was not necessarily damning.
"There's only so many things that they can do based on the information they had," Sexton added. "There are all kinds of information coming in about individuals who have traveled to areas of concern. They can't surveil everybody and, quite honestly, it would be illegal to surveil everybody."
Watch the clip below via MSNBC:
> >Follow Noah Rothman (@NoahCRothman) on Twitter
Have a tip we should know? tips@mediaite.com