Fmr. Clinton Diplomat Takes On Chuck Todd, Savages Obama's Dithering And Contradictions On Syria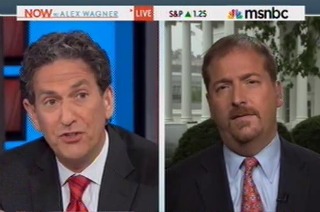 On Tuesday, Jamie Rubin, Bloomberg News' executive editor and former State Department appointee under President Bill Clinton, savaged President Barack Obama's inaction on Syria. He told an MSNBC panel that Obama's establishment of red lines relating to the use of chemical weapons and then subsequently ignoring them is detrimental to America's credibility abroad. When challenged on his assertions by NBC News Chief White House Correspondent Chuck Todd, Rubin replied that Todd's articulation of the logic behind non-intervention was flawed.

MSNBC host Alex Wagner asked Rubin if Obama's commitment to Syria's opposition fighters outside of direct intervention by American military forces would have any tangible impact on the two-year-old conflict in that country.
"I don't think that the humanitarian aid or the nonlethal assistance plays much of a role at all," Rubin replied. "In terms of changing the calculation of [Syrian President Bashar al-Assad], as John Kerry, the Secretary of State, keeps talking about, night vision goggles and aid to the refugees is almost nothing, really, in terms of changing his calculation."
"[Assad] has to believe that something fundamental is going to change in the military struggle," Rubin added. "He has to believe that the United States is going to really take the side of the opposition – whether that comes in the form of actual weapons, training, intelligence, no-fly zone, or possible safe area in parts of Syria."
RELATED: Fox's Ed Henry Challenges Obama On Syrian 'Red Line' And 'Blocking' Testimony Of Benghazi Survivors
Rubin noted that the Obama administration is afraid of the international reaction to intervention in Syria, but their fears have all been realized already by virtue of their policy of non-intervention. He added that an intervention in the Syrian conflict 12 – 18 months ago would have simpler and more effective. Today, it is far more difficult but no less necessary.
"In international diplomacy, a red line is a use of force," Rubin said categorically. "When you say 'serious consequences' that means the use of military power."
Todd said that the most important development relating to Syria is a new New York Times/CBS poll which showed more than 60 percent of Americans oppose intervention in that country's civil war. Todd added, relating to Rubin's claim that the U.S. should have intervened long ago, "if you break Syria, there's only one country that's going to be held responsible for fixing it."
"The U.S. will own this, own the rebuilding, own the potential new government — you know, is that something that's going to be politically palatable in this country?" Todd asked.
Rubin said that Todd accurately described the logic of non-intervention, but that logic was flawed. "We didn't own the problem in many other countries where we've contributed military power," Rubin said. He added that, if the U.S. is bound to nation build after intervention, "we will never intervene in Syria."
Watch the clip below via MSNBC:
> >Follow Noah Rothman (@NoahCRothman) on Twitter
Have a tip we should know? tips@mediaite.com