Fmr. Death Row Inmate Confronts Hillary: How Do You Justify Death Penalty Against Wrongful Convictions?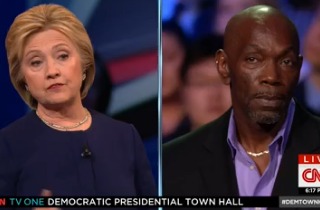 As Hillary Clinton took questions at tonight's Democratic town hall, she got a particularly powerful one on her pro-death penalty stance from a member of the audience.
Ricky Jackson introduced himself as a man who spent 39 years in prison on death row after being wrongfully convicted of murder. From there, Jackson asked Clinton about how she can justify her stance on execution when there are documented cases of people who were exonerated after being sentenced to death.
Clinton expressed that states often don't do enough to ensure fair trials and a respect for the legal rights of criminal defendants. Clinton said that she would like to see state and federal courts lower the frequency of death sentence usage, but she also said that it should be reserved for extreme cases of violence like 9/11 and the Oklahoma City Bombing.
Clinton explained that such cases would only be kept within the federal system, but that she was still working to find the proper threshold for reserving the death penalty. She also gave Jackson her condolences for the hardships he experienced throughout his ordeal.
"What happened to you is a travesty, and I just can't even imagine what you went through and how terrible those days and nights must have been for all of those years… I hope that now that you are standing here before us that you will have whatever path in life you choose going forward and that you will get the support that you deserve to have."
Watch above, via CNN.
[image via screengrab]
Have a tip we should know? tips@mediaite.com