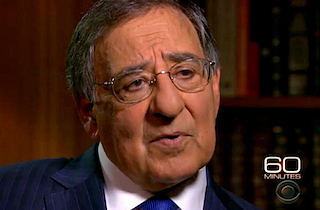 In an interview on 60 Minutes, former Defense Secretary and CIA Director Leon Panetta criticized the Obama administration's foreign policy, arguing that the U.S. left Iraq too quickly and has gotten around to intervening in Syria too slowly.
Panetta recounted to CBS News' Scott Pelley that Obama's national security advisors argued for a stronger U.S. presence in the early days of the Syrian civil war, something Obama overruled.
"The real key was how can we develop a leadership group among the opposition that would be able to take control," Panetta said. "And my view was to have leverage to do that, we would have to provide the weapons and the training in order for them to really be willing to work with us in that effort."
Last week Congress passed a resolution to arm and train the Syrian rebels, not against Syrian President Bashar al-Assad, their original opponent, but against ISIS, the band of Sunni militants that arose out of the fighting and has since expanded into Iraq. Many fault Obama for not having armed the Syrian rebels sooner, arguing that it might have prevented or slowed ISIS' rise.
"I think the president's concern, and I understand it, was that he had a fear that if we started providing weapons, we wouldn't know where those weapons would wind up," Panetta said. "My view was, 'You have to begin somewhere.'"
Watch the clip below, via CBS News:
[h/t CBS News]
[Image via screengrab]
——
>> Follow Evan McMurry (@evanmcmurry) on Twitter
Have a tip we should know? tips@mediaite.com