Fmr Deputy Baltimore State's Atty: Mosby's Police Charges 'Incompetent at Best'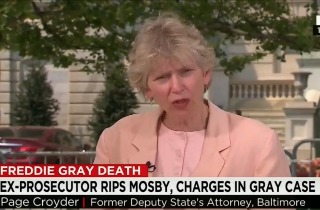 Appearing on CNN Wednesday morning, former Baltimore Deputy State's Attorney Page Croyder blasted current State's Attorney Marilyn Mosby's charges against the six officers allegedly involved in Freddie Gray's mid-April death.
"Any prosecutor interested in the truth and in justice would have used all the tools at her disposal to find them. Ms. Mosby ignored them," Croyder wrote in a Tuesday op-ed for the Baltimore Sun. "She has one of the most experienced homicide prosecutors in the state of Maryland as chief of her homicide unit, but did not ask him to investigate. She had the police report all of one day before filing charges, her mind already made up. And she failed to make use of the grand jury to gather, probe and test the evidence before a group of average citizens."
Appearing on CNN Newsroom, the former prosecutor reiterated such concerns over Mosby's charges, telling hosts Kate Bolduan and John Berman that the state's attorney "didn't get the completed police investigative report until the day before she announced her charges, meaning her mind had to have been made up."
Croyder continued:
She did no consultation with the police investigators. There had to have been many questions. Her own charging documents raise many questions…. [W]hat you were doing was investigating how this person died because to this day we don't know how he died. If there was evidence immediately available that showed that a police officer had broken [Gray's] neck, there would have been an immediate arrest. This is not that situation. This is a situation which called for an investigation and she did not use all of the tools available to her to do a completely thorough investigation.
Watch the full interview below, via CNN:
— —
Have a tip we should know? tips@mediaite.com