Fmr. NSA Director Rips Guardian, WaPo For 'Garbled' NSA Coverage: 'Make Sure You're Dealing With Truth'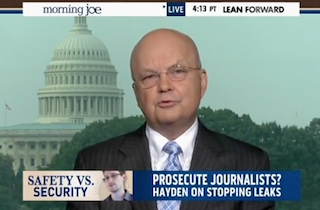 Gen. Michael Hayden, former NSA director, joined the discussion on Morning Joe on Thursday — responding to questions about the extent of the information revealed by the recent leak as well as taking a shot at the press for its coverage. Those seeking to expose truths should be sure they're actually getting the truth, he chided.
Hayden said "of course" enemies suspected we had such forms of surveillance, but now they know many details about the programs.
"We're talking about this, we're treating this as news. We're treating this as a revelation, and we're living in a 21st century modern, IT-based society," Hayden continued. "Now you want to suggest to me that a semi-literate religious fanatic living in a cave in the Hindu Kush knew this was going on all the time? I don't get it."
That prompted only responses consisting only of "wow" and "fair." Shifting gears slightly, Michael Steele asked Hayden about the media coverage of the stories, and whether they should refrain from publishing such information.
To the press' credit, Hayden said reporters and editors will sit on certain stories when they've been convinced it publication would harm national security. "My plea to the press is, if you're going to have an exposé, get it right," he urged.
"And I think the most harmful aspect of this story, based upon Snowden, was how badly garbled The Guardian and The Washington Post got the story, especially the PRISM story. And it's made it seem, based on the questions you're asking me, far more invasive than it really is. So if you're going to do this, if you're going to get truth to the people, make sure you're dealing with truth."
Mika Brzezinski agreed, reiterating a point she's been making for a few days now about the "hysteria" in reporting on the issue.
Watch below, via MSNBC:

Have a tip we should know? tips@mediaite.com