Fmr. Obama Campaign Co-Chair Slams Biden For Implying Conservative Principles Bear 'Racial Viciousness'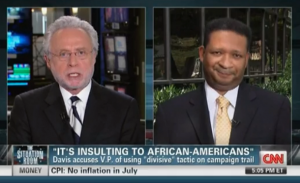 Former Democratic Congressman Artur Davis — who seconded President Barack Obama's nomination in 2008 (when he served as campaign co-chair) — has since switched his allegiance to Mitt Romney. On Wednesday, he took to CNN to denounce the "divisive" nature of Obama's campaign and, in particular, address Vice President Joe Biden's recent headline-making remarks.
Davis began the interview by giving his take on the Paul Ryan pick. "I feel very comfortable with him," he said, adding that he was also comfortable with Ryan when he worked alongside him as a Democrat.
The topic then turned to the president's re-election campaign, with Davis accusing Obama of "divisive" tactics (in line with the language Romney used in his speech yesterday). Citing Biden's controversial remark that Republicans are "going to put y'all back in chains," Davis said the vice president "reached from the bottom of the deck" when he characterized "ordinary conservative principles as being essentially racial viciousness." You can't say something to one group of people and assumed nobody else heard you, he said.
"I know what Joe Biden was doing yesterday," Davis said. "And every black person in that room knew who the y'all was. They knew what the chains were about. They knew what the metaphor was."
But you can hear boos from the audience, he added, which "says something positive" about those people. Davis further asserted that Biden's comment was "insulting" to African-Americans, and to Americans as a whole — and that "the president ought to be embarrassed by it" and "say it was wrong."
Remembering 2008 Barack Obama, Davis called Biden's comment an "insult to the legacy that he used to build up as an order who knew how to inspire people instead of strike fear in people's hearts."
Romney's right to call out the Obama campaign's "divisive" approach, he reiterated — then reflecting on what makes this strategy particularly unappealing:
It wouldn't be so bad if Barack Obama had not campaigned in such a different way. He's doing what any politician does who's running and struggling in the polls and has a 45 percent approval rating and a bad economy. He's trying to change the subject. He's doing what ordinary politicians do. But Barack Obama said four years ago that he was no ordinary politician. And so many of us believed him when he said that. That's the sad thing about what's happened in this campaign.
Betting it won't be long before Republicans start citing Davis' interview.
Watch the interview below, via CNN:

Have a tip we should know? tips@mediaite.com