Fmr. SEAL Commander Tells Soledad O'Brien It's Hard To Get 'Straight Story' Out Of This Administration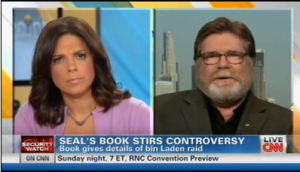 On Friday, Starting Point host Soledad O'Brien spoke with former SEAL commander and SEAL Target Geronimo author Chuck Pfarrer about the mounting controversy surrounding a new book about the mission resulting in the discovery and death of Osama Bin Laden.
RELATED: Fox News Outs Member Of Navy SEAL Team 6 That Killed Osama Bin Laden
Without naming the author in question, Pfarrer shared that his "operation reputation is fine," adding that he'll be interested in seeing exactly what information the book contains:
I understand the fire he is under. This story has got a lot of moving parts in that you have to wonder what story, in fact, he's going to tell. The original research that I delved into dealt with 45-minute firefights, roundup assault, helicopters crashing at the beginning, middle, and end. It was pretty hard to get the straight story out of the administration. And that became complicated to the extent that there's presently an ongoing congressional investigation over special treatment given to certain members of the media, namely Kathryn Bigelow and Mark Boll, who, to the exclusion of all other historians and journalists, were given exclusive access to the training sites.
"As I know you know," O'Brien noted, " the U.S. Command has been quoting as saying your book was full of fabrications." She then brought the subject back to the other book, prompting Pfarrer to ask that he be able to address the fabrication claims.
"You know, the line taken away from the commander was that he didn't want my book to lead the American people to doubt the administration's version of events," he said. "I have no doubt that what's in my book is what happened and it's backed up by independent Pakistani investigations of the crash. That being said, I'm sure that this author felt, as I did, that the truth wasn't being told."
Have a look, via CNN:
Have a tip we should know? tips@mediaite.com