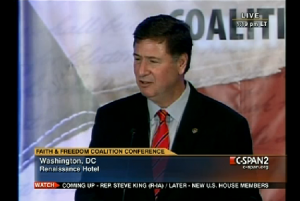 Former senator George Allen addressed those gathered at the second annual Faith and Freedom Conference today, and in the spirit of faith and/or freedom, offered an apology for having twice addressed a young man as "macaca" during a 2006 campaign stop in Breaks, Virginia. Allen, whose questionable assumptions about men who aren't white apparently continue to plague him to this day, told his audience that he regrets his comments:
I've learned, though, that sometimes you can learn more from losing than you do from winning. Our father in sports always taught us that when you get knocked down, you get back up. You don't brood over mistakes; you learn from them and you improve. And during my last campaign, I never should have singled out that young man working for my opponent, calling him a name. He was just doing his job. I was wrong to do that to him and it diverted our campaign away from the real issues that families care about.

And speaking of families, my family had to endure a lot of insults because of my mistake and I never want to have them have to go through something like that again.
That young man, you might remember, was an Indian-American campaign volunteer named S.R. Sidarth, who had been filming Allen on behalf of his opponent, Democrat Jim Webb. The comments – and Allen's subsequent muddled excuses for them – very likely derailed his entire campaign.
Watch video of Allen's speech, via CSPAN:
Have a tip we should know? tips@mediaite.com