Fmr. Zimmerman Lawyer Slams Geragos And Baez's AC360 Comments: They're Not On List Of Opinions I Treasure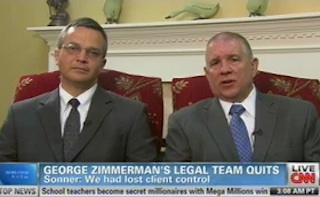 Former George Zimmerman lawyers Craig Sonner and Hal Uhrig spoke with CNN's Ashleigh Banfield Wednesday morning, sharing harsh words for attorneys Mark Geragos and Jose Baez.
"We're all ignorant, just on different topics. The subject of attorney/client privilege is a little more complicated than you pick up off the TV shows. I listen to some of the complaints, frankly, even on this network from Mr. Geragos and Mr. Baez, they're factually incorrect. I checked the list of opinions who I treasure, they're not on the list," Uhrig said.
RELATED: Mark Geragos Blasts Zimmerman Lawyers' Presser On CNN: I Thought I Was Watching SNL Skit
Geragos and Baez had criticized the attorney's press conference last night on CNN's AC360. "This may be the height of chutzpah for criminal defense lawyers to say we haven't talked to our clients for two days so therefore we're withdrawing," Geragos told Anderson Cooper. "By the way there's no court case filed, so there's nothing to withdraw from, number one. Number two, who are you to be diagnosing your client's mental state when you haven't talked to him? This is completely inexplicable, and I thought I was watching a Saturday Night Live skit."
Earlier in the interview, Uhrig refuted media claims that the two had up and quit the case. "It's easy for the Monday morning quarterbacks to say you should have run a running play than a passing play because it's been intercepted. We don't think we've done anything improper or illegal or anything to hurt George Zimmerman," Uhrig explained. "To characterize what we did as quitting perhaps is not entirely accurate. We simply wanted to acknowledge the fact under the circumstances we could not ethically continue to tell the press or anybody else that we're still representing him."
Sonner was critical of the media coverage of the Trayvon Martin shooting and alleged the media was trying to rush to convict Zimmerman.
"I believe that (Zimmerman)'s gotten a raw deal from the media that the media has tried to convict him wrongfully," Sonner opined.
Banfield switched topics to ask whether their press conference had galvanized special prosecutor Angela Corey to make a quick judgment in the case whether to arrest their erstwhile client. "Some of the critics said by dropping his representation you perhaps might have exposed him to some fears on behalf of the prosecutor that she needs to make a move and arrest him because who else can they call to track down your client? Are you concerned about that?" Banfield asked.
"The idea that suddenly because we announced that we can't communicate with our client that he's going to flee the country, frankly, is just silliness," Uhrig replied.
Watch Banfield's interview with the two below:

Have a tip we should know? [email protected]
---