FNC Anchor Jenna Lee: "Are Senate Republicans Better At Fighting Than Legislating?"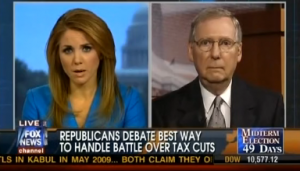 Fox News anchor Jenna Lee is down in Washington, D.C. on this primary Tuesday, and an all-star slate of legislators was lined up for her to interview.
It was a big moment for Lee – the young Happening Now anchor has been in her current role since July, and today she unloaded some tough questions for a few prominent Republican guests.
Her slate of big name guests included Sens. Mitch McConnell, Joe Lieberman and Lindsey Graham and Rep. Mike Pence. Here's how the interview started with McConell. "If Congressman John Boehner is willing, or at least open to the idea of compromise, why aren't you?"
After getting a non-answer, Lee pressed on. "So Senator McConnell, there is no room to compromise?" She tried a third time, and McConnell kept deflecting. Finally, she hit him with this. ""Are Senate Republicans better at fighting than legislating?" she asked.
McConnell stuck to his stump speech and avoided the question, but not answering only underscored the point further. Later, she hit Rep. Pence with "What are your real concerns about being viewed legitimately as the party of no and slowing down the political process?" Pence was left stumbling. Update: A press secretary from the House Republican Conference emailed to tell us, "He answered the question clearly and without any sort of hesitation besides a slight laugh due to how untrue the implication of the question was." This is exactly how he began his answer: "Well, look, uh, you know, what we're seeing here, with, you know, with the playing of politics…" Stumbling? As Fox News says, we report, you decide.
Lee, a rising star at Fox News, proved her interviewing skills today while hammering a segment of the FNC guest list that some might stereotypically say get an easy ride – GOP politicians. Let's just say today was a far cry from this. Here's the McConnell interview and the end of the Pence interview:

—–
» Follow Steve Krakauer on Twitter
Have a tip we should know? tips@mediaite.com