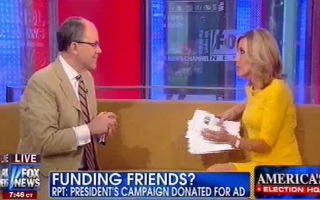 Fox News Channel's legal analyst Peter Johnson told Fox & Friends host Alisyn Camerota on Thursday that he thinks President Barack Obama's deputy campaign manager Stephanie Cutter could be liable for civil charges or more from the Federal Election Commission for making misleading statements saying that she was not familiar with Joe Soptic. Soptic, the subject of a pro-Obama PAC ad in which he accuses Mitt Romney of being complicit in his wife's cancer death, also appeared in other pro-Obama ads and on a conference call with Cutter.

RELATED: Stephanie Cutter Fact-Checks CNN On SuperPAC Ad Blaming Mitt Romney For Death Of Steelworker's Wife
"Now it comes out that it appears Ms. Cutter is not telling the truth," said Johnson.
Camerota said that Cutter claims she did not know the details of Soptic's wife's death, which may be true. However, it is clear that she is familiar with Soptic himself. "That's not running afoul of the law, is it," asked Camerota.
"Oh, it might be," said Johnson. "Under the Federal Election Commission there could be civil penalties and more."
Johnson went on to say that details have emerged that directly connect the independent Political Action Committee, Priorities USA, which is forbidden by law from coordinating with a campaign, and President Obama's formal reelection effort. "In my view, that quote – that tape recording – shows a real awareness that they were coordinating this thing," said Johnson.
Johnson conceded that Soptic can appear in both PAC ads and official campaign related functions, but the coordination that has recently been exposed is a violation of the law.
"Listen to the tapes – the tapes speak more than I can," Johnson concluded.
Watch the segment below via Fox News Channel:
> >Follow Noah Rothman (@Noah_C_Rothman) on Twitter
Have a tip we should know? tips@mediaite.com