Following SCOTUS Health Care Decision, Megyn Kelly Questions Bush Official Who Vetted Justice Roberts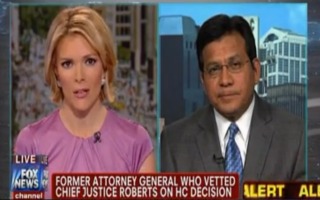 On Wednesday, former Attorney General under President George W. Bush, Alberto Gonzales, appeared on Fox News Channel's America Live with Megyn Kelly to weigh in on the Supreme Court verdict on health care reform. Kelly asked Gonzales for his insight into the thinking that Chief Justice John Roberts may have applied when he joined the Supreme Court's liberal members in finding the individual mandate constitutional as a tax.

RELATED: Supreme Court Declares President Obama's Health Care Reform Law Constitutional
Kelly introduced Gonzales as "a man who helped vet Chief Justice John Roberts" and asked him what he thought of the Chief Justice joining the majority in finding health care reform's individual mandate constitutional as a tax.
Gonzales said that he had not yet read the opinion carefully and would like to spend more time considering the verdict before passing judgment. "I've got a great deal of respect for John Roberts," said Gonzales. "Spent a lot of time vetting him. Spent a lot of time talking with him about his philosophy of judging."
"No matter who the judge is, you're going to disagree, at some point or another, with respect to decisions by judges. It's just the way it is," said Gonzales. "But I have a great deal of faith in John Roberts and the decision he rendered today."
He went on to say that he thought Roberts is "very good at deciding the cases on the most narrow grounds possible." He said that he did wonder why, if the mandate was construed as a tax, why the justification for that was reached through the Commerce Clause.
"Does this decision undermine the ability to use this, either by the right or the left, as an election year issue," Kelly asked.
The former Attorney General said that he believed each side would use whatever they could use as a rhetorical weapon against their opposition. "Presidential elections are fundamentally so important because the President of the United States gets to decide who serves on the Supreme Court and is involved in making these kinds of decisions," replied Gonzales.
Finally, Kelly asked Gonzales if he had an opinion he would like to share on the House of Representatives contempt vote against Attorney General Eric Holder. He replied that he had no comment.
Watch the segment below via Fox News Channel:
> >Follow Noah Rothman (@Noah_C_Rothman) on Twitter
Have a tip we should know? tips@mediaite.com