For 1,000th Show, Hannity Talks To Mediaite About His 'Libertarian' Evolution And Why 'Journalism Is Dead'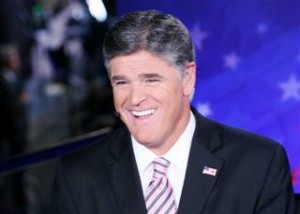 "My best friend from third grade," said Sean Hannity excitedly as his desk phone rang. He asked if he could put this interview on hold in order to answer a call from an old friend. This anecdote is indicative of how, 1,000 shows into his prime time Fox News Channel program, Hannity remains the same unassuming everyman he was when he began a career as a talk show host 25 years ago in a small radio station outside Huntsville, Alabama.

The Fox News host recently sat down with Mediaite to discuss his show's milestone broadcast, his "libertarian" political evolution over the course of the last quarter century, and why the ongoing debate over the response to Benghazi demonstrates how, in his opinion, "journalism is dead."

"I was terrible – just God awful – when I first went on TV," Hannity said of his premiere broadcast on Fox News Channel's Hannity & Colmes in September 1996. "I can't believe they didn't fire me. I was terrible."
"You know, because you follow the news and I read your site, that any show that comes on the air, within two days their ratings are going to be scrutinized," he continued. Hannity says that his debut on Fox News at the network's inception allowed him and his co-host, Alan Colmes, to fine-tune their style of broadcasting without the fear of prompt cancellation.
"I needed to grow," Hannity said of his decision to broadcast an evening television show on top of his daily radio program. "I think the best advice I got from [Fox News Channel President] Roger Ailes was reminding me that this is not radio."
"I did ask [Ailes] why he didn't fire me at times, because I thought I was so bad," Hannity added with humility. "Every time there is an anniversary, they want to show the tape of my first show on Hannity & Colmes, and I refuse to let them show it because it's so humiliating."
Whether the ratings are great or disappointing, Hannity said that he has never received a call from his Ailes relating to viewership. "Great boss," Hannity said. "I'm expected to do the best job I can do and I know what the expectations are, and I come in here prepared and ready to build it so that people will come."
When asked if he misses having a liberal foil like Colmes to play off, the Fox News host says that both he and Colmes were happy with the 2009 decision to let Hannity go solo. "For both of us, we kind of got to a point where we were a little frustrated," Hannity said. "What I like most about the show is I don't have to interrupt as much. There's plenty of time."
Hannity added of his friend, Colmes, whose office is located directly next door, that the feeling is mutual. "He told me the other day that he's on more than he's ever been on because he's on all day long," Hannity said of Colmes' Fox News radio program. "We're still best friends. I love Alan."
RELATED: Mother Of Slain Benghazi Officer To Sean Hannity: 'They Want Me To Shut Up'
Of course, Hannity also maintains a presence on the nation's radio airwaves hosting a nationally syndicated, drive time program. When asked if the transition from a conversational tone which is optimal for radio to the presentational one which translates best on television was jarring, Hannity replied that it actually helps him do television better.
"I've had this cathartic experience for three hours prior to coming on the program," Hannity confessed. "I did probably a 20-minute opening monologue, so I got a lot out of my system, which helps. Whatever topics I've wanted to hit I hit, but I also get to fine-tune my arguments. I have a pretty good indication of where people's interest level lies that day. That helps me make decisions about maybe changing topics later in the day or maybe changing my arguments a little bit."
"My goal was to survive," Hannity declared when asked where he saw his career going when he debuted professionally on WVNN-AM in Athens, Alabama. "I always felt that I was doing my last show."
"Maybe that fear of failure, or desire to succeed, motivated me," he noted. Hannity related the story about how, when he moved to WGST-AM in Atlanta, Georgia, in 1992, he was going up against the established conservative radio host Neal Boortz in the morning. He recalled how, driving into the studio before 9 a.m., he would listen to Boortz recap the day's news before he had even had a chance to crack open a newspaper. "I realized I had to get into work earlier," Hannity said. "So, hard work is really the key."
One would think that Hannity, an established television host, would spend a portion of his day surveying the media landscape. Hannity revealed that he gets most of his knowledge of what is said or not said in the mainstream media from Mediaite.
"I'll tell you what my viewing habits are: I get up in the morning and I flip back and forth between Fox & Friends and [Don] Imus," he confided. "I keep Fox on all day until 1 p.m. That's my thinking time." He admitted that he likes to "get in the zone" before his 3 p.m. Eastern radio program. "I like to be very still – very quiet. No computers. I like to think though the show. After that, when I get home at night, it's the Sopranos at 11 and whatever movies are on or [ESPN's] SportsCenter and then to bed."
"Journalism is dead in America," Hannity proclaimed. He referred specifically to the media's response to a week of revelations about President Barack Obama's administration's response to the attack on America's Benghazi consulate and its aftermath. "I guarantee you that if this were George W. Bush's White House… and we found out afterwards that they had talking points that they knew this was terror-related, that this was an Al Qaeda-affiliated group, and that those talking points were altered and a false narrative created — and it was done prior to a presidential election — there would have been a very different response."
"This was all done for political ambition and political purposes. And I think that's why it's important," Hannity asserted. "I think people died needlessly."
He says that he believes he should be thankful that "there is this inherent bias in the media," because it has contributed to his success on television and radio.
"I think part of the success that I have had as an advocacy journalist – I don't consider myself a journalist; I am a talk show host and all that that means — is because the media is so biased, abusively biased and leftist," the Fox host declared.
NEXT>>>>Continue to page 2 of the article here
This is an opinion piece. The views expressed in this article are those of just the author.