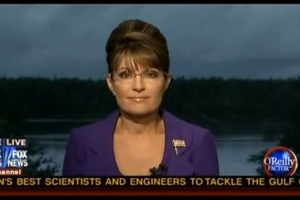 Immediately after President Barack Obama's Oval Office address, Sarah Palin was given the first opportunity on Fox News to respond to the President and, much like her competitors over at MSNBC, she bemoaned the lack of concrete action. But beyond that, she attacked the president's cap and trade push and proposed a solution to the Gulf of Mexico cleanup: getting the Dutch and Norweigians involved in oil cleanup, because that is what they are "known for."
Bill O'Reilly, who was hosting a special addition of his regular Factor due to the speech, asked Palin what her reaction to the speech was, and what she would do differently, pointing out that, as governor of Alaska, "there is not a governor in the United States that knows more than you do about the oil industry."
Palin continued to argue in favor of drilling, citing international tension as a reason to continue the push for "conventional sources of energy to be drilled here." "Otherwise," she told O'Reilly, "we are going to be dropped to our knees in bowing to the Saudis and Venezuela and places like Russia that will keep producing oil and petroleum products and we will have to ask them to produce for us."
After criticizing the president for not coming up with concrete solutions, O'Reilly challenged her to come up with her own solution. While she didn't quite know the logistics of those solutions, she pointed in the direction of people she believed do know the answers: the Scandinavians (and some people in Maine):
"What the federal government should have done was to accept the assistance of foreign countries, of entrepreneurial Americans… the Dutch and the Norweigians. They are known for dikes and for cleaning up water and for dealing with spills. They offered to help! And yet, no– they too, with the proverbial 'can't even get a phone call back.' That is what the Norweigians are telling us and the Dutch are telling us. And then the entrepreneurial Americans, the company in Maine that has the boom and the absorbents, those companies that are waiting for the Obama administration eight weeks later…"
She also pointed out what she had accomplished in terms of energy solutions as governor: establishing a bureaucratic entity called the Petroleum Systems Integrity Office to help oversee the oil companies.
Video of Palin's comments below:

Have a tip we should know? tips@mediaite.com