For FNC 9/11 Special, Shep Smith Reveals He Did 'A Lot' Of Crying After The Attack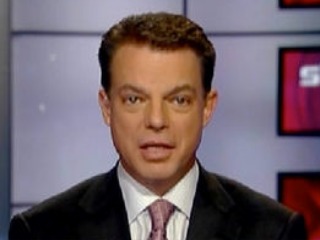 A couple of weeks ago, we reported that Fox News' Shepard Smith was contributing to Fox News' digital-only eBook, Rise of Freedom: The New World Trade Center, which became available on August 23rd.
In the eBook, Smith looks back on his experience covering the 9/11 terrorist attacks. An experience, he recalls, that moved the veteran reporter to tears:
I didn't have a recollection of it until a subway ride, it had to be be weeks in, when a man was crying and another man came over to console him. I think that's my first vivid memory of what happened.

I cried, too. There was a lot of it during that period.
Smith also reveals that he "hates" the anniversary of the event because he doesn't much want to remember that day then years ago.
That may be a factor why, in addition to the eBook, Smith will also be a part of the network's two-hour special, "Fox News Reporting: Freedom Rising With Shepard Smith," which will focus on the future rather than the past. Specifically, the special will look into the building of the World Trade Center and 9/11 memorial, drawing on the nearly exclusive behind-the-scenes access Shepard and his crew were given to the site. The goal behind the special, Shepard tells the NY Daily News, is to document the progress being made at the site so that people won't feel that nothing had been accomplished, as well as to be able to look forward instead of solely ruminating on past events.
Shepard has made focusing on the future a hallmark of his ongoing coverage of the 9/11 attacks, including taking Senators to task over their hesitation to pass a bill offering relief to first responders and, then, tearfully celebrating the bill's eventual passage.
The special airs Friday, September 2nd at 9 p.m. ET on Fox News.
h/t NY Daily News
Have a tip we should know? tips@mediaite.com