For Ideas, Improvement and Ratings — Andy Lack and MSNBC Should Turn to… HBO
Why MSNBC Should Be More Like HBO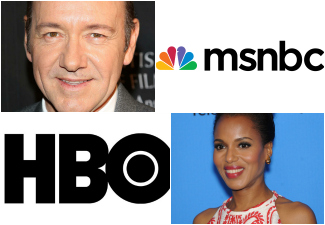 It's been written in this space that CNN President Jeff Zucker is having his MTV Moment. What's an MTV Moment? It's that chapter in a network's cable existence when it realizes it can't survive solely on what originally made it a household name. In MTV's case, music videos weren't going to pay the bill alone, so it began offering its viewers something more, something unique (Real World/Road Rules/Teen Mom/Jersey Shore, etc.). In CNN's case, just delivering the news was no longer the simple formula for success, hence the increase in taped programming we're seeing.
Since Zucker took over, the network has jumped from a limping third to a solid second in the cable news race. It also has strengthened the one night in primetime where it beats Fox for the gold medal on a weekly basis: Sunday night. For those of you who watch, CNN goes the taped programming route that evening, with Anthony Bourdain's Parts Unknown, Morgan Spurlock's Inside Man and Bill Weir's Wonder List, which took awhile to get on the air but was well worth the wait. There's also the occasional mini-series like Finding Jesus, which has performed exceptionally well. Per Mediaite's Matt Wilstein after its debut:
At 9 p.m., Finding Jesus was #1 with 1.139 million total viewers while Fox came in second with 634K and MSNBC was third with 275K. In the demo, CNN's 371K more than tripled Fox and MSNBC, which each averaged 111K. After The Sixties, which premiered last year with 1.390 million viewers, Finding Jesus was the second highest rated CNN Original Series premiere ever in total viewers.
Of course, there's the cost aspect that goes into these highly-produced programs (Tom Hanks' The Sixties couldn't have been cheap, for example), but that doesn't seem to be stopping Zucker from rightly perusing this avenue even more aggressively as the increased ad revenue comes in. This is best evidenced by the six-part series just announced for 2016, Race for the White House, which will be produced and narrated by Kevin Spacey (which I'm told will be narrated by Spacey in his own voice, and not as Frank Underwood).
So what does all of this have to do with the headline around HBO and MSNBC? Glad you asked…
Like MTV and CNN, HBO also had its MTV moment when realizing movies alone wasn't maximizing its potential from a profit perspective. Showtime, Encore and Cinemax were eating away at the movie-only audience model, so HBO execs made the decision to put serious money and resources toward original programming. And when looking back at the quality the network has produced, its a resume no other network–free, cable or otherwise–can match. Here's my Top 10:
10. Sex and the City
9. The Wire
8. Band of Brothers
7. Real Sports
6. The Larry Sanders Show
5. True Detective
4. Curb Your Enthusiasm
3. Entourage
2. Game of Thrones
1. The Sopranos
And we'll see you in the comments section for the 3-spot awarded to Entourage (sorry…Ari Gold was that good). The point is…the argument could easily be made that HBO has enjoyed the greatest run in creating original programming over the past decade. In fact…it's not even close.
So HBO is one powerful entity, right? You bet. It's also one that has not-so-quietly taken a side in political debate. Whether we're talking the Real Time with Bill Maher (which averages four million viewers per week), Jon Oliver's Last Week Tonight (which does deep-dives into complex issues better than actual news outlets and has an even larger audience than Maher), Aaron Sorkin's The Newsroom , or movies like Game Change (which only explored half the book in focusing on Palin and not the Clinton/Obama feud) or Recount (a hopelessly one-sided retelling of the recount of the 2000 presidential election), HBO is the unlikely but undisputed #1 outlet for liberals right now despite not being a cable news network.
And this is the part when the column that speaks directly to Andy Lack, the new chairman of NBC News: Mr. Lack, If you want to get your mightily-struggling MSNBC back on its feet again, you should be looking directly at what Time Warner is doing both at CNN and HBO right now. For example, HBO just announced it will be producing a movie starring Kerry Washington on the Clarence Thomas–Anita Hill 1991 controversy. The movie hasn't begun production yet, but if HBO's political agenda and narrative of the past is any indication, you know exactly where this movie is going: Hill will be portrayed the poor victim fighting a battle against all odds…and Thomas will the dark, eeeevil, perverted monster who used sinister tactics behind the scenes to get confirmed to the Supreme Court. What will undoubtedly be ignored is the a New York Times/CBS News poll taken at the time that found that 58 percent of the respondents believed Thomas, while only 24 percent believed Hill. No matter…HBO will do an exceptional job presenting Hill's perspective as fact and Washington will bring eyeballs and critical acclaim. Guaranteed.
So if I'm Lack, maybe I should think about doing the kind of political documentaries and movies that CNN and HBO are doing. Forget trying to compete with Fox, which current MSNBC president Phil Griffin flirted with succeeding on back in early 2013: MSNBC simply doesn't have the horses on air or ability to execute behind the camera to bother continuing down the slippery slope it's on. That's what Zucker seemed to understand early on in his tenure by likely thinking: I'm going to have to offer something very different than political food fights at certain times of the day and particularly on Sunday night. That niche is taped programming focusing on big issues or past events. And it's working.
Does Lack have the resources? Absolutely. Comcast is a monster producing almost 65 billion in revenue per year. The "Universal" in NBC Universal includes Universal Studios…which produces major films at last check, so why not explore tapping into that?
MSNBC tried doing mostly liberal opinion throughout its entire schedule. Viewers started having trouble discerning one program from the next as the hosts changed but the narrative remained the same. Ratings for even the face of the network—Rachel Maddow—plunged over 50 percent from last year alone. In a bit of irony, MSNBC's highest-rated program are repeats of the prison documentaries, Lockup. Bottom line: The best liberal talent out there is either retiring to pursue other avenues (Jon Stewart, who likely got the producing bug following Rosewater) or is already is locked up in a nice contract (Oliver, Maher) with editorial freedom they could never have on any cable news network, so another solution is needed.
If it's broke, fix it. And that can be accomplished for MSNBC with more documentaries, more taped programming, more tapping of NBC and Universal resources.
Don't try to be the progressive alternative to Fox…
Be the cable news version of HBO, the unlikely reigning king of liberal content.
— —
>> Follow Joe Concha @JoeConchaTV
Have a tip we should know? tips@mediaite.com