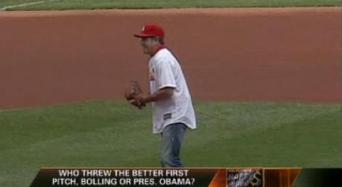 For those who don't know, Fox Business Network has a show that takes place in a bar. It's called Happy Hour and is hosted by Eric Bolling, Rebecca Diamond and Cody Willard.
Although they don't imbibe on-air, the atmosphere is loose. And also – apparently they enjoy partaking in some athletic activities, as we saw this week.
Bolling headed out to St. Louis where he got a chance to follow in President Obama's footsteps and throw out the first pitch. Before making the trip, he stirred the pot a bit with some trash talk on Twitter: "He threw like a girl."
Well on last night's show we got to see the result, in a segment billed around whether Obama or Bolling won the pitching contest. Diamond's prognosis? "100% better than the President's."
Willard was profiled by the New York Times a few days ago as Brian Stelter followed the long-haired biz guy on a barhop with some friends. The main goal of the night – ping-pong.
I stopped by a Happy Hour taping in November 2007, and can attest to the good time had by all on set (this was before Bolling joined the mix, who has only served to loosen the mood and bolster the financial cred). But is anyone watching? Fox Business Network doesn't report ratings, but all signs point to 'not really.'
Maybe with more high profile outings – like playing table tennis with the Times and MLB first pitches – that will change.
Check out the Bolling first pitch video below and see if he bested Obama:


—–
• Follow Steve Krakauer on Twitter
Have a tip we should know? tips@mediaite.com