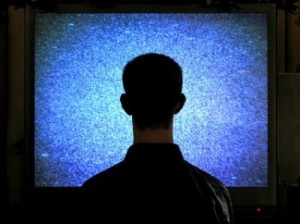 In May, we told you about a study that predicted one in eight Americans would stop paying for cable TV in 2010. And though that conjecture may have made the industry sweat, it was only theoretical. Now, though, Brian Stelter at Media Decoder is reporting that due to a persistently weak economy, the amount of Americans paying for TV service has dropped two quarters in a row.
In 2010's second quarter, 216,000 people stopped subscribing to cable or satellite TV services. In the third quarter, 119,000 more people jumped onto the cancellation bandwagon. Unsurprisingly, says Stelter, "The numbers sent a chill through the television industry":
When the second quarter numbers were released in August, some wondered if it was an aberration — a brief interruption to the steady upward march of pay television, which has been supported by population growth and the popularity of TV. At the time an SNL Kagan analyst was quoted as saying that the second quarter was "unique." Rather than blaming cord-cutting for the subscriber declines, the analyst, Mariam Rondeli, cited economic factors.

But with the third quarter numbers also showing a decline, cord-cutting — which is a reference to people who cobble together a low-cost diet of TV via the Internet — might be getting a closer look.

Ian Olgeirson, a senior analyst at SNL Kagan, said in a news release Wednesday that cable and satellite companies were "pointing to a continuation of the forces that pushed subscriber gains into negative territory in the second quarter, including the weak economy, high unemployment and elevated churn of former over-the-air households." However, he added, it is "becoming increasingly difficult to dismiss the impact of over-the-top substitution on video subscriber performance."
News like this kind of makes the ratings wars seem trivial, doesn't it? Read Stelter's full report at NYTimes.com.
Have a tip we should know? [email protected]