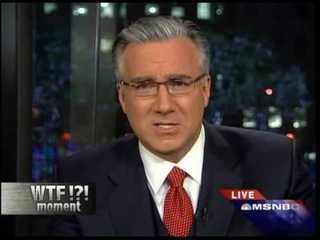 As we approach the moment of truth – whether Keith Olbermann and Bill O'Reilly will address the supposed truce between their respective parent companies during their 8pmET shows tonight (we'll live-tweet it), early indications point to some comment from each.
Let's lay out what we may be in store for – and why it matters what the MSNBC host has to say so much more.
Olbermann jumped into the Daily Kos thread about the story, as he often does, to comment about tonight's show. "Watch tonight. You'll be pleasantly surprised, I hope," he writes. "As then-candidate Obama (not to make any undue self-comparisons) once added, with a laugh, after answering a complicated and doubting question from the New York Times editorial board: consider the possibility that I might know what I'm doing here."
An Obama reference and a tease about a comment? The Kossacks, and Olby-haters, will surely be watching.
As for O'Reilly, we're hearing interested parties should "tune in tonight" – an even teasier tease.
We'll be watching both programs. But of more interest will be what Olbermann has to say, because he has far more riding on whether there is a deal or no deal. Countdown has for a long time been based around an overriding theme of bashing Fox News, its personalities (mainly O'Reilly) and other News Corp. properties (including Chairman Rupert Murdoch). With former Pres. Bush, the other main target of Olbermann's ire and airtime, out of office, FNC has taken on an even greater role in 2009. Of course, that is until June 1.
If FNC mentions cease, Olbermann's community of fans will turn on him after sharing the investment of firing at Fox News on a nightly basis. He needs to make a statement that appeases the hardcore fans and shows autonomy from G.E. influence.
This influence is something Glenn Greenwald of Salon writes about today. "That it is GE which controls the editorial decisions of NBC and MSNBC is an open secret in Washington," writes Greenwald. "GE's business vitally depends on favorable relationships with the Government, and they have signaled that they are unwilling to alienate the Right generally or News Corp. and Fox News specifically. It takes no effort to see how profoundly those corporate interests affect the "journalism" of NBC and MSNBC."
This statement is damning, but still somewhat speculative. We walked down the hall to get a comment from Dan Abrams. "I have no idea what happened in this case," he tells Mediaite (disclosure obvious). "I can tell you that during my many years as an anchor, reporter and executive at MSNBC and NBC News, I never experienced nor even heard about, GE micromanaging editorial content."
Still, the allegation of G.E. oversight is something Olbermann must address tonight for him to continue doing a Countdown program any regular viewer would recognize.
For O'Reilly, his take means far less. The cable news ratings leader only occasional references a G.E. property – and never swings down to take a shot at Olbermann himself. Instead, his barbs are at the higher-ups – Immelt and Zucker. If he stopped mentioning them entirely, maybe some in his core audience would feel corporate pressure was at play. But there'd be other boycotts to drum up, more spin to expose. In fact, one way he may address the story tonight, if at all, is to call out what he deems incorrect reporting by the New York Times, a frequent target of O'Reilly's criticism of media bias.
This story won't be going away any time soon. But a lot of the framing will come to light beginning at 8pmET tonight.
• TVNewser has a story with a lot of backstory details not yet revealed about the supposed feud. The takeaway – no truce, but a dialing back of personal attacks. We'll see what happens tonight.
—–
»Follow Steve Krakauer on Twitter
Have a tip we should know? [email protected]