Former Bush Aide: Bridgegate Scandal Could Leave Christie 'Better Off Than He Was Before'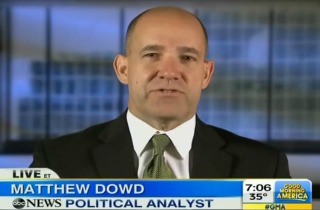 Appearing on ABC's Good Morning America on Thursday, ABC News political analyst Matthew Dowd revealed that he thinks the scandal surrounding Chris Christie and the closure of two lanes of the George Washington Bridge may end up helping him in the long run. Dowd said that triumphing over political adversity ultimately benefits candidates and, presuming no additional damning information is revealed, Christie will be strengthened by his experience defusing this damaging political scandal.

"On tone, he was contrite and he was humble," Dowd said when asked to size up Christie's performance at Thursday's two hour press conference. He added that the New Jersey governor's swift dismissal of personnel involved in the scandal and his willingness to take every question posed to him will help mute the negative impact this scandal might have on Christie's stature.
RELATED: Jon Stewart Takes on Christie Presser: Tone He's Set Is Apparently in 'F U Sharp'
ABC News legal analyst Dan Abrams (and Mediaite founder) said that the legal challenges that New Jersey's government will have to fend off are slightly more complex than Christie's political challenges. "The last thing you want is investigations, particularly investigations where there's the power to subpoena document, et cetera, because that can elicit more embarrassing political information," he said. "I think that's their greater concern is that the legal investigations will lead to embarrassing political information."
"I actually believe if he gets through this and everything he said yesterday turns out to be true he could actually benefit from this because, as you and I know, most people and most politicians succeed have to have gone through serious adversity, overcome it, and they get to another level," Dowd added. "If he's able to do that — and there's still days and weeks ahead where we'll learn more — if he's able to go that, then he could be better off because of that adversity than he was before."
Watch the clip below via ABC:
[Photo via screen grab ]
— —
> >Follow Noah Rothman (@NoahCRothman) on Twitter
Have a tip we should know? tips@mediaite.com