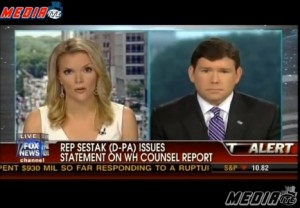 With the release of the White House Counsel's memo on the Joe Sestak controversy, the race is on to keep this story's heart pumping. Today, Fox News' Megyn Kelly and Bret Baier give the story a good going-over, but former Bush Attorney General Michael Mukasey comes along to spoil the fun.
The White House memo may strain credibility to some, as Kelly and Baier point out that an uncompensated advisory position doesn't seem like sufficient enticement to get someone out of a potato sack race, let alone a Senate one. However, it does put egg on the face of anyone who reported the widely-circulated rumor, like Baier, that Sestak was offered Secretary of the Navy (or SecNav, to you JAG viewers).
The President announced his intent to nominate Ray Mabus to be Secretary of the Navy on March 26, 2009, over a month before Senator Specter announced that he was becoming a member of the Democratic Party in late April. Mabus was confirmed in May.
Oops! It kinda makes you wonder why Fox News chose to run a clip of Baier asking Sestak about the rumor.
As promised, former Bush AG Michael Mukasey comes along to give his expert legal analysis, which is something along the lines of "nothing to see here."
Ideally, the Obama administration should have made this explanation a long time ago, but in the long-term, their caution may pay off. If they had jumped in without gathering all the facts first, the risk of a discrepancy would have extended the shelf-life of this story to Twinkie-esque proportions.
Have a tip we should know? tips@mediaite.com