Former Bush Official: Obama's Speech During Shooting Like Bush's Inability to Admit Mistake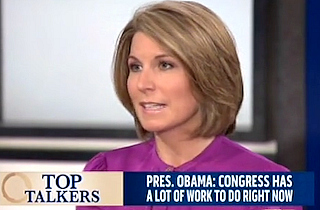 Former George W Bush communications chief Nicolle Wallace told MSNBC's Morning Joe Wednesday morning that President Barack Obama's speech on the anniversary of the economic collapse, which he gave while the events at the Navy Yard were still unfolding, was revelatory of his inability to "adjust to events," and would function in much the same way as Bush's inability to admit a mistake had.
"There was a moment when Jay Carney's one-time partner at Time Magazine…asked a question that forever changed the course of President Bush's relationship with the press," Wallace said. "He asked the president if he'd ever made a mistake. The president, in the moment, wasn't able think of one. This to me is that moment for Obama, where he's publicly showing us he's incapable of adapting and adjusting to events. It's an incredibly revealing and incredibly damaging revelation for the White House."
RELATED: Joe Scarborough Goes After Obama for 'Partisan' Speech During Shooting
Wallace did note, however, that Obama was probably unaware of the extent of the shooting, but faulted his staff for not intervening.
"A president is structurally cut off from all the things that would make you say, 'Maybe, I shouldn't gave speech,'" Wallace said. "But it really speaks to me about a White House with no more controls. There are no internal controls anymore. There's no process by which that staff can get to him and make something stop. Once a train has been pushed out of the station, no matter how ill-advised its course, nothing and no one can stop it."
As a former White House communications director, she was also unwilling to completely doubt current White House Press Secretary Jay Carney's statement to the press that postponing the speech had never been under consideration.
"It's always possible, going back to the beginning when we had a White House Press Secretary assigned to a president, that he doesn't know of every single conversation that went on in the West Wing," Wallace said. "So it's possible that Jay is correct. It's also possible that somewhere someone said, 'Hey should we go down there and suggest that we put this off?'"
Watch the clips below, via MSNBC:
[Image via screengrab]
——
>> Follow Evan McMurry (@evanmcmurry) on Twitter
Have a tip we should know? tips@mediaite.com