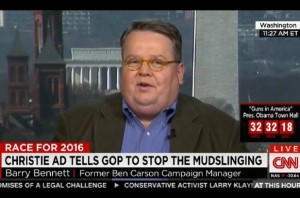 One of the high-ranking staffers who recently vacated his position within the Ben Carson campaign sat down with CNN on Wednesday to reveal his true, unfiltered view on the race for the White House. Barry Bennett, who until last week served as Carson's campaign manager, admitted to CNN that stopping GOP frontrunner Donald Trump in this election cycle will be unlikely.
Amid reports of campaign tension, Bennett announced his immediate resignation from the Carson campaign that saw a strong surge in the month of October but has been been unable to gain traction since; Carson's declining poll numbers have seen him slip further in the polls behind Trump, Ted Cruz, and Marco Rubio. Bennett's resignation was joined by those of communications director Doug Watts as well as campaign manager Lisa Coen.
Now in his post-Carson role, Bennett sang a different tune to the way that the 2016 race is shaping up. CNN's Kate Bolduan pressed Bennett directly about the remaining GOP field: "Who are you most impressed with?"
"All you gotta do is compare the size of everyone's rallies," responded Bennett. He continued by saying that this was the ultimate indicator of grassroots support, and serves as an accurate gauge of popularity and likely political outcome. And who does this most benefit?
"Donald Trump is shoving ten, twelve thousand people at rallies and a lot of these guys are having five or six people show up at their events in Iowa. There's just not a comparison. The establishment can fret about it all they want, but this is the new reality."
As for at the expected outcome for the party nomination? "Nobody is moving above eleven or twelve percent… unless something cataclysmic happens, [Trump's] gonna win," admitted Bennett.
As for his time served as a leader on the Carson campaign that now seeks to gain ground in Iowa in the month of January ahead of the state caucus, Bennett noted, "I'm very proud of what we did together." But the writing on the wall is clear for the rest of the 2016 race, at least in the mind of Bennett:
"In the end people have decided to go with loud. We have to get used to this new reality."
Watch the above video from CNN.
[image via screengrab]
—
>> Follow J.D. Durkin on Twitter (@MediaiteJD)
Have a tip we should know? tips@mediaite.com