Former CBS Cameraman Disputes O'Reilly's Falklands Story; O'Reilly Denies Ever Working with Him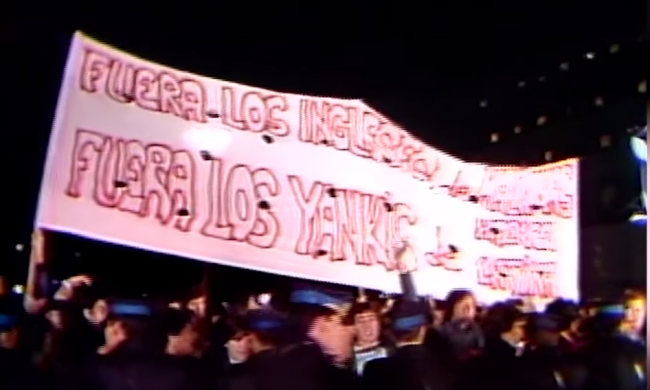 Many people have come out in the last two months to dispute O'Reilly's "war zone" claims, but not all have been directly relevant or significant to the story.
Ignacio Medrano-Carbo, however, claims he was the cameraman for the then-CBS reporter when he was out among the riots in Buenos Aires; and he takes issue with O'Reilly's characterization of the experience. The Fox host, however, denies having ever worked with this particular photographer.
For context: Back in 2013, O'Reilly recalled to his Fox audience how his 1982 photographer "got run down and then hit his head and was bleeding from the ear on the concrete" while "the army was chasing us." The Fox host claimed he "dragged him off" to safety.
On Monday, Medrano-Carbo, a former CBS News photog, submitted a statement to Mother Jones disputing that story told by O'Reilly. A portion below:
Ninety-nine percent of the footage in that report was shot by me. Does that make me his cameraman? I never fell nor was I bleeding out my ear at any time during my Buenos Aires assignment. I do not even recall Mr. O'Reilly being near me when I shot all that footage nor after I left the unrest at Plaza de Mayo that evening. But it is not uncommon to be separated from your reporter during a disturbance such as that one.

[…] Mr. O'Reilly states that his cameraman that night was Roberto Moreno. Mr. Moreno was indeed there but at that time he was a sound man and working with seasoned CBS cameraman Carl Sorensen. Mr. Moreno, who became my friend, did not pick up a camera until years later. My last name is Medrano perhaps Mr. O'Reilly got confused since Mr. Moreno went on to shoot for CBS News? Medrano? Moreno?

Lastly, I can confirm that no one I know of who worked with me in Buenos Aires during the Falkland War ever heard of any CBS crew member getting beat or hurt. Nor did any demonstrators get killed that night at Plaza de Mayo—to quote a colleague, "or we would've been following up at the morgue and interviewing family members."
Medrano-Carbo did offer a defense of O'Reilly against charges that he negligently asked a photographer to turn up the camera lights for a stand-up during the protests. "I will attest that he never asked me to turn on the light for any reason," the cameraman wrote. "I turned on the camera light at my discretion and possible folly."
Since mid-February, multiple outlets — including Mother Jones, CNN, and Media Matters — have published stories suggesting the Fox host has embellished the details of his "war zone" reporting with CBS in the early 1980s. Fox News has repeatedly dismissed the ordeal as an "orchestrated campaign by far left advocates" to discredit their primetime star, while O'Reilly has maintained that he has always been "accurate" in his reporting.
In a statement provided Monday afternoon, Bill O'Reilly sternly denied Medrano-Carbo's claims and said the two have never worked together:
"I never worked with Ignacio Medrano-Carbo. This is nothing more than yet another coordinated attack which predictably comes on the heels of my appearance on The Late Show with David Letterman."
UPDATE — 3:50 p.m. ET: Mother Jones presented O'Reilly's comment to Medrano-Carbo. Their update:
In response, Medrano-Carbo tells Mother Jones, "I don't know what to say… Ninety-nine percent of that footage in his report was mine. How'd he get that footage, if I'm not his cameraman?…I have the footage to show." Medrano-Carbo shared with Mother Jones the raw footage he shot that night, and it does match the video in the report O'Reilly filed. He adds, "You can see me in the BBC report. Why would I lie? You used 99 percent of my stuff, and I'm not your cameraman? I certainly did not get beat up. You did not help me."
— —
Have a tip we should know? tips@mediaite.com