Former CIA Chief: Donald Trump Is 'An Unwitting Agent of the Russian Federation'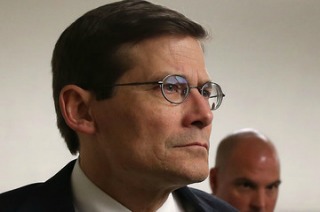 In a Friday New York Times op-ed, former CIA chief Mike Morell endorsed Democratic presidential candidate Hillary Clinton for president while lambasting her opponent Donald Trump for being clueless on national security issues and dangerously erratic.
"I am neither a registered Democrat nor a registered Republican. In my 40 years of voting, I have pulled the lever for candidates of both parties. As a government official, I have always been silent about my preference for president," Morell wrote. "No longer. On Nov. 8, I will vote for Hillary Clinton."
"In sharp contrast to Mrs. Clinton, Mr. Trump has no experience on national security. Even more important, the character traits he has exhibited during the primary season suggest he would be a poor, even dangerous, commander in chief," he warned.
Morell warned that Trump was being manipulating into supporting Russian interests. "President Vladimir V. Putin of Russia was a career intelligence officer, trained to identify vulnerabilities in an individual and to exploit them," he wrote. "That is exactly what he did early in the primaries. Mr. Putin played upon Mr. Trump's vulnerabilities by complimenting him.
"He responded just as Mr. Putin had calculated…" Morell lamented. "In the intelligence business, we would say that Mr. Putin had recruited Mr. Trump as an unwitting agent of the Russian Federation."
"My training as an intelligence officer taught me to call it as I see it. This is what I did for the C.I.A. This is what I am doing now. Our nation will be much safer with Hillary Clinton as president," he concluded.
[Image via screengrab]
——
>>Follow Alex Griswold (@HashtagGriswold) on Twitter
Have a tip we should know? tips@mediaite.com