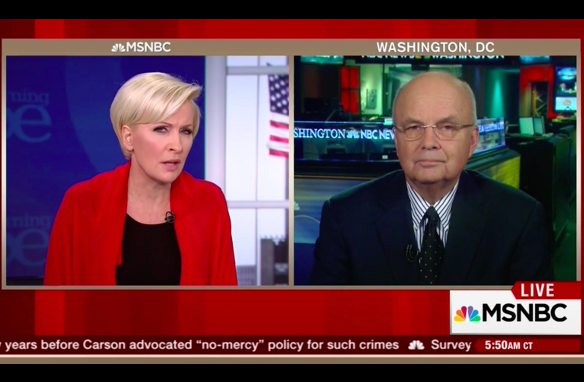 Michael Hayden — the former director of both the NSA and the CIA as well as a highly-decorated four star general — appeared on Morning Joe on Friday to discuss the U.S.-led coalition in the fight against the Islamic State. While the show's host Mika Brzezinski introduced a discussion about the foreign policy chops of some of the 2016 candidates (a day after criticizing Dr. Ben Carson's comments on the subject),  General Hayden made a rather bizarre comparison.
Guest Donny Deutsch opened with a question for General Hayden on Donald Trump's approach to defeating ISIS ("We're gonna bomb the crap outta 'em!"). Hayden responded, "We're actually going after their infrastructure. In a strange way, ISIS is a state not just a movement, and so we can punish them for airstrikes."
Then General Hayden made an unexpected comparison that seemed to temporarily stun Brzezinski and elicit a too-eager response from Deutsch. Hayden continued, "Airstrikes without ground power is a lot like casual sex: it offers gratification without commitment!"
Deutsch hopped in unabashedly, "Sign me up for that!".
"Oh, my god," responded Brzezinski.
As Mediaite reported over a year ago, General Hayden has made similar suggestions to this military approach before. As the conversation continued, General Hayden only stunned Brzezinski even more, giving credit to Carson's commitment to learning about foreign policy as it related to the fight against ISIS. "He asked the right questions!" said Hayden regarding a phone conversation he had with Carson, prompting Brzezinski to defiantly ask:
"Are we talking about the same person?"
Check out the above clip from MSNBC's Morning Joe.
[image via screengrab]
—
>> Follow J.D. Durkin on Twitter (@MediaiteJD)
Have a tip we should know? tips@mediaite.com