Former CIA Head Warns David Gregory: We'll Have To Be 'Less Effective To Be A Little More Transparent'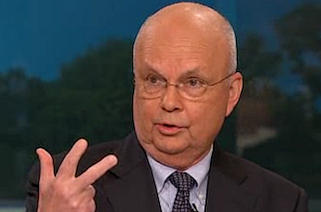 Former CIA Director Michael Hayden told Meet the Press' David Gregory on Sunday morning that security and transparency were a zero-sum game.
"For part of my life, when I was running the NSA program, I thought lawful, effective, and appropriate were enough," Hayden said. "By the time I got to CIA I discovered I had a fourth requirement, and that's politically sustainable. By the time I got to the CIA I was of the belief that I would probably have to shave points off of operational effectiveness to inform enough people that we had the political sustainability and the comfort of the American population concerning what it was we were doing. Living in this kind of democracy, we're going to have to be a little less effective in order to be a little more transparent to get to do anything to defend the American people."
Hayden's comments came in response to journalist Jim Risen's critiques of lack of transparency in the intelligence community, to the point that low-ranking intelligence officials had little recourse when they spotted something amiss.
"The internal system for whistleblowing is broken," Risen said. "There is no good way for anyone inside the government to go through the chain of command and report about something like this. They all fear retaliation, they fear prosecution. Most whistleblowers, the only way they have is to go to the press."
Andrea Mitchell argued that whistleblowers like Snowden could to the intelligence committees in Congress if they had something to report.
"If you're a low-ranking person in the intelligence community," Risen responded, "and you go to the Congress, the Senate or the House, you will be going outside the normal bounds. Going to Congress would be an unauthorized disclosure."
Watch the exchange here, via NBC News:
—
>> Follow Evan McMurry (@evanmcmurry) on Twitter
Have a tip we should know? tips@mediaite.com