Former CIA Officer: Officials Considering NSA Whistleblower's Case 'Potential Chinese Espionage'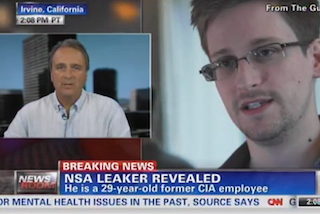 Former CIA case officer Bob Baer revealed on CNN Sunday evening that intelligence officials were possibly considering Edward Snowden's case as Chinese espionage, after Snowden came forward this afternoon from an undisclosed Hong Kong location.
"Hong Kong is controlled by Chinese intelligence," Baer said. "It's not an independent part of China at all. I've talked to a bunch of people in Washington today, in official positions, and they are looking at this as a potential Chinese espionage case."
"On the face of it, it looks like it is under some sort of Chinese control, especially with the president meeting the premier today," Baer said. "You have to ask what's going on. China is not a friendly country and every aspect of that country is controlled. So why Hong Kong? Why didn't he go to Sweden? Or, if he really wanted to make a statement, he should have done it on Capitol Hill."
According to Glenn Greenwald, Snowden said he chose Hong Kong because "'they have a spirited commitment to free speech and the right of political dissent,' and because he believed that it was one of the few places in the world that both could and would resist the dictates of the US government."
CNN host Fredericka Whitfield asked if there was any chance of China extraditing Snowden.
"We'll never get him in China," Baer said. "They're not about to send him to the United States and the CIA is not going to render him, as he said in the tape, is not going to try to grab him there."
"It almost seems to me that this was a pointed affront to the United States on the day the president is meeting the Chinese leader," Baer said, "telling us, listen, quit complaining about espionage and getting on the internet and our hacking. You are doing the same thing."
Watch the interview here:
—
>> Follow Evan McMurry (@evanmcmurry) on Twitter
Have a tip we should know? tips@mediaite.com