Former CIA Official Scorches Obama's Snowden Remarks: Show Some Spine! 'We Have A Novice In This President'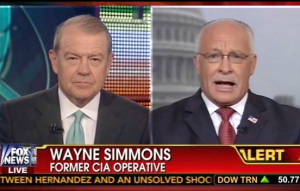 President Obama said today during a press conference that he is concerned about further leaks by NSA whistleblower Edward Snowden, but he added that he's "not going to be scrambling jets to get a 29-year-old hacker." And while Snowden did not technically hack anything, some people are outraged at the president seemingly downplaying the significance of the United States finding Snowden and bringing him to justice. Former CIA official Wayne Simmons told Stuart Varney on Fox News today that Obama's comments prove his long-held belief that the president is a "novice," calling on the Commander-in-Chief to show some spine dealing with other nations to get Snowden back.
RELATED: Obama 'Concerned' About More Snowden Leaks, But Won't 'Be Scrambling Jets To Get A 29-Year-Old Hacker'
Simmons told Varney, "The president should show some leadership, some spine, and let our enemies, as well as our allies, know that we mean business." He labeled Snowden as a thief who made off with "some of our country's greatest secrets," and called it "heartbreaking, appalling, disgusting" that Obama would show such a "lack of leadership" in dealing with this issue.
Varney asked Simmons about Obama's "tone of voice" in how he reacted to a question about whether he's directly called the Chinese or Russian presidents about Snowden. Simmons declared that he feels vindicated in his belief that "we have a novice in this president," saying Obama should be on the phone with the foreign leaders and "doing whatever he has to" to make it clear that the U.S. really wants Snowden back. He added that "Putin is schooling Obama."
Snowden still reportedly remains in a Moscow airport while Vladimir Putin has no intention of extraditing him, and appears to still be seeking asylum in Ecuador.
Watch the video below, courtesy of Fox News:
—–
Follow Josh Feldman on Twitter: @feldmaniac
Have a tip we should know? tips@mediaite.com
Josh Feldman - Senior Editor