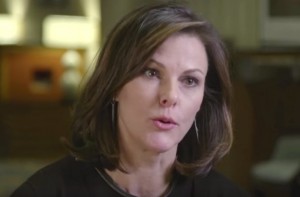 A former CNN anchor is making the case that, yes, cable news should be blamed for the rise of Donald Trump.
Campbell Brown, who anchored on NBC for 4 years and then on CNN for 2, has a piece out for Politico Magazine going into some detail about the state of the TV industry in the era of Trump.
People she still knows in the business don't have much of a rosy outlook:
"Look, we've always done a lot of stupid shit to get ratings. But now it's like we've just given up and literally handed over control hoping he'll save us. It's pathetic, and I feel like hell." Said another friend covering the presidential campaign for cable news, "I am swilling antidepressants trying to figure out what to do with my life when this is over."
There's been a lot of talk about who or what is most to blame for Trump's rise––whether that be the media or the voters or the GOP. Network executives have been remarkably candid about what Trump does for them, though some have been way too defensive over claims that they helped bring about his rise.
Hell, there was even a report months ago that CNN staffers complained directly to Jeff Zucker about excessive Trump coverage.
Brown says ratings pressure was a big factor in her decision to leave CNN and makes this case for why the media deserves so much of the blame:
Everything he is doing is with TV news' full acquiescence. Trump doesn't force the networks to show his rallies live rather than do real reporting. Nor does he force anyone to accept his phone calls rather than demand that he do a face-to-face interview that would be a greater risk for him. TV news has largely given Trump editorial control. It is driven by a hunger for ratings—and the people who run the networks and the news channels are only too happy to make that Faustian bargain.
She concludes that "Trump's candidacy is largely a creation of a TV media that wants him, or needs him, to be the central character in this year's political drama," and that ends up manifesting in an acquiescence not just to Trump the man but to Trump the offensive "chronic liar."
Brown thinks the quest for false objectivity is leading many to treat Trump with kid gloves––"laziness that too often comes with just playing referee."
Back in December, Brown implored the media to #TurnOffTrump for one week. But the chances of that ever happening––especially given he'll be the likely GOP nominee––are pretty much nil.
[image via screengrab]
— —
Follow Josh Feldman on Twitter: @feldmaniac
Have a tip we should know? tips@mediaite.com
Josh Feldman - Senior Editor