Former Democratic Rep.: 'African Americans Are Prepared To Look Seriously At The Republican Party'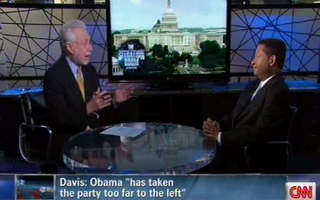 Former Alabama Democratic Rep. Arthur Davis appeared on CNN's The Situation Room with Wolf Blitzer on Monday where he said that African Americans are prepared to take a second look at the Republican party once President Barack Obama is out of office.

RELATED: Former Democratic Congressman Turned GOP: Obama Has Taken Us 'Backwards'
Davis lost his bid to retain his seat in Congress in a 2010 Democratic primary in Alabama. He sparked controversy recently by announcing that he is leaving the Democratic party and moving to Virginia where he has flirted with the idea of running for office again – this time as a Republican.
He told Blitzer that he left the Democratic party over a number of issues, and not simply over his disagreements with President Barack Obama.
"The reason I got behind [President Obama] was twofold," said Davis. "Number one, Perhaps naively, I believed that if Barack Obama got elected that it would completely change race relations in this country. Number two, I believe that the Democratic party would change because I believed, again perhaps naively and it turns out mistakenly, that Barack Obama represented the kind of center-wing of the Democratic party that Bill Clinton represented."
Davis went on to say that he believes the Obama administration has led the Democratic party "too far to the left." Davis said that he, like millions of others, "did not get what we voted for."
Blitzer asked if Davis felt that the Republican party's prospects among African American voters were beginning to get better.
Davis replied, regardless of the polls today, that he expects Obama to secure "96, 97 percent" of the African American vote. However, he says that black voters are open to persuasion once Obama is out of office.
"I do think that after President Obama leaves the scene, win or lose he will not be on the ballot again," said Davis. "When he leaves the scene, I do think African Americans are prepared to look seriously at the Republican party, as are Latinos, if the Republican party earns those votes."
Davis said that the GOP has to address poverty immigration issues in order to be competitive with Democrats for the support of minority voters.
Watch Davis' interview below via CNN:
> >Follow Noah Rothman (@Noah_C_Rothman)on Twitter
Have a tip we should know? tips@mediaite.com