Former GOP Rep. Who Took Over Gingrich's Former DC Office Called It 'A Filthy Pig Sty'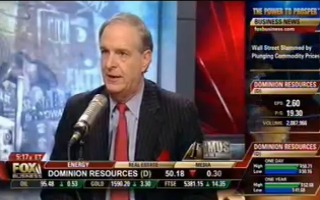 Former congressman John LeBoutillier has a few interesting tidbits to share about Newt Gingrich, it seems.
Appearing on Fox Business Network's Best of Imus in the Morning Thursday morning, LeBoutillier shared that Gingrich is… kind of gross?
I got elected in '80, and when you get elected you go down there and you get in a lottery to get an office. And the office I got was "cannon 417." And the previous occupant was moving out when I moved in. The occupant was Newt Gingrich. The Congressman's personal office where he had that I was moving into was the most filthy pig sty you have ever seen, with ground-up peanut shells in the carpet. And my ex-staff have been emailing me since he has re-risen from the dead and said that it took them three days to clean that carpet from Newt.
RELATED: Jon Stewart Stages An Anti-Newt Intervention For The GOP: 'Don't Do It'
"If he's the nominee, I'm voting for the President," said Imus, who didn't seem all that surprised that Gingrich would have been working in a veritable makeshift peanut butter factory.
LeBoutillier, who hosts Fox News' Campaign Confidential online, also shared yesterday during his pre-debate program that the GOP presidential hopeful and former Fox News contributor may be holding something of a grudge against the network because it chose to suspend his contract.
"I think Newt has a little edge against Fox because he used to work here," he said.
Politico adds that, according to "a Republican source," Gingrich is "unhappy" that Fox had suspended his contract after he missed the May 1st deadline to decide whether or not he would be running this year. The network, of course, keepton fellow contributor Sarah Palin, who was, at the time, also in the midst of deliberating whether or not she would throw her hat in the race.
Below, have a look at LeBoutillier's discussion with Imus, via Fox Business Network:
h/t Politico
Have a tip we should know? tips@mediaite.com