Former GOP Senator Admits To Having Secret Son With Daughter Of Another Former GOP Senator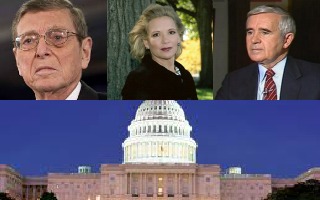 Former Sen. Pete Domenici (R-NM) confessed this week to having a secret son who is now in his adulthood. Domenici admitted that his son's mother, Michelle Laxalt, is the daughter of another prominent Republican senator who Domenici served with in the upper chamber in the 1980s, Sen. Paul Laxalt (R-NV).

RELATED: Dem Congressman Caught 'Creep-Tweeting' Young Model During SOTU Reveals: She's His Secret Daughter
A CNN report on the subject of Domenici's revelation highlights the former Republican senator's hypocrisy. "While Domenici was blasting Bill Clinton, he was involved in a bit of tawdriness of his own," the CNN reporter said.
In 2007, Michelle Laxalt appeared on CNN's Larry King to defend Domenici's involvement in the Bush administration's controversial dismissal of a number of federal judges. Domenici was admonished by the Senate ethics committee in 2006 for inappropriately contacting one of the dismissed justices asking him to speed up the prosecution of a former Democratic New Mexico state senator.
Neither Domenici nor Laxalt would comment to CNN on the scandal, but their son did send a statement saying that he is a private individual and intends to continue to stay out of the public eye.
Domenici is the second Washingtonian to reveal a secret child in the space of a week. Last week, Rep. Steve Cohen (D-TN) revealed that a 24-year-old model he was communicating with publicly through his twitter account was his yet undisclosed daughter.
Watch the report below via CNN:
> >Follow Noah Rothman (@NoahCRothman) on Twitter
Have a tip we should know? tips@mediaite.com