Former Huckabee Spokesman Reveals the Song That Brings Out His 'Inner Black Guy'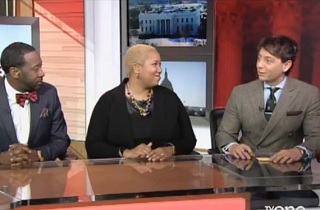 On Friday morning's NewsOne Now, host Roland Martin asked his viewers, and his guests, to name the one song that brings out their inner white guy/white girl. After explaining why the premise wasn't racist, and getting answers from several callers, and from the rest of his panel, Martin asked former Rick Santorum and Mike Huckabee spokesman Hogan Gidley to name the song that brings out his inner black guy.
Martin began by defending the premise, saying, "We put the question out there, what is that one song that brings out the inner white boy or inner white girl in you, and I know there are people tweeting me going 'Man, that's racist,' but guess what? How did people know what I'm talking about, if we never had that kind of conversation?"
Responses from callers included Taylor Swift's "Trouble," Wham!'s "Careless Whisper," and "Whip It" by New Wave impresarios Devo, while the panel went with tunes by Def Leppard, Ace of Base, Bon Jovi, and Nirvana.
"Hogan, you're a white guy," Roland observed, "but I need to know your inner black guy song, because I was tweeting about LSG one day, and I talked about 'My Body,' and I got a tweet, 'Man, that's my Jam!' That was Hogan."
"I love LSG," Gidley said, and added "I love anything Motown, Solomon Burke, I love Otis Redding, Maurice and the Zodiacs, anything like that I love, but take me back to high school? It's NWA, 'Straight Outta Compton,' that was the best, that's one of the top 5 rap albums, for me, of all time, I love that album. Yella Boy, Dre, everybody, that was the best."
There you have it, folks. In addition to being a top political adviser, there is apparently also no telling if, or when, Hogan Gidley is down with a jack move.
Here's the video, from NewsOne Now:
Have a tip we should know? tips@mediaite.com