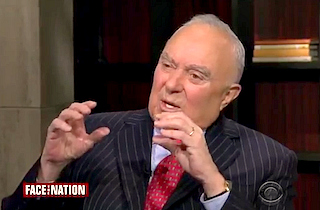 Joseph Califano, the domestic affairs chief for Lyndon Baines Johnson and the one who jumpstarted the backlash to the film Selma in December, told Bob Schieffer on Face the Nation Sunday morning that President Barack Obama could learn a thing or two from Johnson about brokering deals with Congress.
"If a president today passes one or two laws over a four year term, we think it's an achievement," Califano said. "Johnson passed hundreds of laws over the three Congresses."
Califano claimed Johnson never asked what party a lawmaker was with — which is almost certainly untrue — but instead focused on how they could help him. "You have to sit down with a Boehner, to use an example," Califano said, "and say, 'What do you need? Let's figure out, who do you need and what do you need so we can get this through.' And then say, 'all right.' Make the deals. Do the deals. Give it to them."
The myth of Johnson as a congressional ballbuster who dropkicked legislation through the Capitol is a resilient one. But critics maintain it ignores several important realities, notably that Johnson enjoyed both goodwill extending from the assassination of John Kennedy and then major Democratic and liberal majorities in both houses.
Califano also reiterated his criticism of Selma, arguing that the story of a white president working with grassroots civil rights organizations to pass the Voting Rights Act was a better tale than the one that cast Johnson as an obstacle and occasional villain.
Watch le clip below, via CBS News:
[Image via screengrab]
——
>> Follow Evan McMurry (@evanmcmurry) on Twitter
Have a tip we should know? tips@mediaite.com