Former Marine to CNN: When I Fought for U.S., I Was 'Patriot,' but When I Fight for My People I'm 'Thug'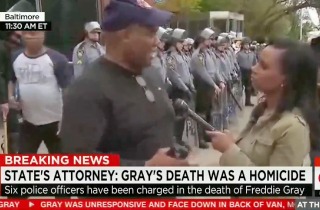 Shortly after Baltimore City State's Attorney Marilyn Mosby announced charges against six officers involved in the incident that led to 25-year-old Freddie Gray's death, CNN caught an uncensored moment from a protester shouting at police officers.
"We gave our lives for this country," the man, who identified himself as a former Marine, said to a line of riot police. "Is this what it's coming to, man? I love this fucking country, too. Just as much as you do. We're fighting for a reason, man. I was willing to give my life for this country, man. Look at this community now, man."
"You're the same people I went to war with," he shouted, in a clip first flagged by RealClearPolitics.
When the man began walking away, a CNN reporter caught up with him and asked him to explain where his anger comes from. "They tell me we are apart of this country, man. How can we be?" he explained, asking her to look around at the police lined up.
As for the charges against the officers, the man was not satisfied: "We got to stop being pacified every time they throw us a bone where they want us to calm down, man. We need to wait for the end result to come in," he said.
"I was willing to give my life for this country," he continued. "When I was in the Marine Corps, they called me a 'patriot.' A marine. But now that I'm fighting for my people they call me a fucking 'thug.' They called me a 'thug' when I fight for my people," he said. When the reporter recoiled at his cursing, he said he would not "sweeten up" anything.
Watch below, via CNN:
[Image via CNN/screengrab]
— —
Have a tip we should know? tips@mediaite.com