Former Mayor Marc Morial: I Don't Support Voter ID Requirement As 'A Matter Of Principle'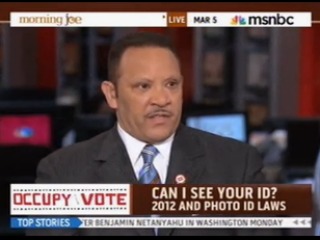 On Monday's Morning Joe, host Joe Scarborough launched into a discussion on voter identification regulations and voter fraud with guest Marc Morial, former mayor of New Orelans and current president of the National Urban League.
Morial argued that restrictions on the kind of identification voters must present are unreasonable and show racial discrimination. "You're talking about not any ID," he said. "In Texas, a student ID is no good, but a concealed and carried gun permit is good. This is not just any photo ID, this is a photo ID that meets a certain set of very specific requirements. So 1 in 10 Americans do not have this kind of voter ID."
"You are talking about, though," Scarborough noted, "the return of Jim Crow laws. As you know, the difference between African-Americans that don't have these specific IDs and white Americans who don't have these specific IDs is the difference between, say, 9% of white Americans and 10.5% of African-Americans."
"That's about 25% people of color who we don't think have this kind of ID," Morial corrected, citing a number of reports from the NAACP.
RELATED: James O'Keefe's 'Fake Tim Tebow' Voter Fraud 'Investigation' Doesn't Have A Prayer
Later, Morial explained his issue with voter ID requirements. "My view," he said, "is we shouldn't place a fence in front of a constitutional right to vote unless there's some kind of compelling necessity that says that there's a need to have the ID and that the ID's going to prevent some sort of problem for which there's evidence. Remember, we've had in this democracy throughout the years of voting prior to prior to 18 months ago, only two states that have had these kind of voter ID requirements. So all of a sudden now, you have an explosion of 34 states that have embarked on some journey to make it more difficult for people to vote."
When Scarborough brought up the matter of voter fraud, Morial said that most cases of fraud actually involve election officials, not voters. Forcing voters to submit certain forms of ID, he argued, will do nothing to curb or address the pervading type of fraud.
"It is a solution," he summarized, "in search of a problem."
Have a look, via MSNBC:
Have a tip we should know? tips@mediaite.com