Former McCain Campaign Chair Steve Schmidt Evaluates 2012 GOP Field As 'Mosaic Of Nonsense'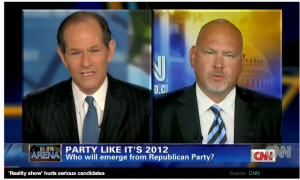 Steve Schmidt, John McCain's 2008 advisor, told In The Arena host Eliot Spitzer that, in his view, any serious GOP candidate with sights set on 2012 will have to contend with "a reality show" and a "theater of the absurd," calling the current field a "mosaic of nonsense." However, all hope is not yet lost.
He explains:
We have some very good and very serious candidates in this race, but one of their big challenges is trying to navigate what is in essence a reality show, if you will. You see that playing out this week. I think whether you're Jon Hunstman, who wrote an excellent article, I think, framing his candidacy in the Wall Street Journal today, talking about some of the major issues that this country faces. Mitt Romney, who's going to be announcing his candidacy this week. All that is taking place in this context of what I call "the mosaic of nonsense."
And what about Donald Trump, Sarah Palin and Newt Gingrich? "Well, clearly," said Schmidt, "none of them is going to be president of the United States." He continues:
None of them is going to be the Republican nominee, but you've had this theater of the absurd taking place over the course of much of the spring. In there somewhere is a serious campaign waiting to get started and I think, when you look at the Republican field right now, you're looking at three serious candidates and they are Governor Pawlenty, Governor Hunstman, and Governor Romney.
Do you agree with Schmidt's assessment of the field? We've been keeping a close eye on Rebublican (and other right-leaning) voters' take on potential 2012 candidates and, so far, it seems they don't (yet?) echo Schmidt's enthusiasm for Pawlenty or Huntsman, although Romney has indeed been polling relatively well.
Watch the segment, via CNN:
Have a tip we should know? tips@mediaite.com