Former Mediaite Editor Steve Krakauer Promoted To CNN's Senior Digital Producer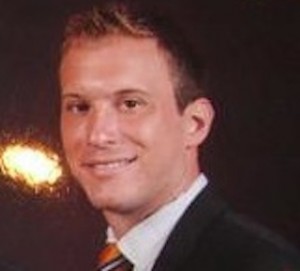 Mediaite's former Senior Editor Steve Krakauer's inevitable rise to global media dominace continued today, with news of his promotion to Senior Digital Producer at CNN. He will now oversee all digital producers at CNN, who primarily manage the show's social media and online footprint, in particular, the show's Twitter feeds. Krakauer left Mediaite roughly a year ago to helm the digital side of Piers Morgan Tonight, which launched last January and has enjoyed critical raves and impressive ratings, in no small part due to an aggressive Twitter presence.
CNN's SVP of Programming Bart Feder announced Krakauer's promotion in an email to CNN staff:
I'm pleased to announce that we've created the position of Senior Digital Producer for CNN/US and that we've asked Steve Krakauer to fill that role, effective immediately. Steve has been the Digital Producer for Piers Morgan Tonight since the show's launch and has done a superb job in maximizing digital and social media opportunities to drive audience and engagement for the show.

Now we'd like Steve to work with and coordinate Digital Producers throughout the network to establish best practices and take full advantage of our strengths on air, on line and in social media. In addition to helping lead social media activity across shows and dayparts, Steve will also now manage the @CNN account.

Steve will report to me but also work very closely with Christa Robinson and the PR team, and Janet Rollé and the marketing team, to be sure we're focusing our collective efforts and resources to achieve the greatest possible impact.

Please join me in congratulating Steve on his promotion and expect that he'll be reaching out to many of you in the days ahead.

Thanks!

B.
There is no question that Krakauer has a keen understanding of how best to employ Twitter to bring attention and viewers to the Piers Morgan show. Perhaps one of the more noteworthy moments in the very short relationship between Twitter and television programming came earlier this year when Piers Morgan Tonight booked the then white-hot and insanely mercurial Charlie Sheen at the apex of his then manic turn in the spotlight. The last second booking (and the potentially unreliable Sheen) did not allow for standard on-air promotion of the interview, so it was left to an equally manic Twitter blast led by Krakauer — as well as show runner Jonathan Wald who enjoys his own impressive Twitterography — to bring attention to the interview, which in turn earned some of the show's best ratings of the year.
We caught up with our former colleague via email, and learned some specifics about Steve's new responsibilities, and the wisdom he's derived from the past year's experience. Here's the full exchange with Krakauer:
Mediaite: How will your responsibilities as Senior Digital Producer differ from that which you've been doing as Digital Producer for Piers?
Krakauer: While giving up the day-to-day responsibilities of what we did at Piers Morgan Tonight, the goals in the new job will remain the same – we want to maximize our digital efforts to drive tune-in to, and highlight, the great journalism and newsmaking moments happening on CNN. At Piers Morgan Tonight we use our website and social media to push out content as well as formulate web-only material and build a community that will give added value to the TV product. As Senior Digital Producer we want to do this for all the shows at CNN, and I'll look at short and long term ways of achieving this.
Mediaite: Do you see the need to create an overarching strategy for all show Twitter accounts or will each CNN show be treated on a case by case basis?
Krakauer: Every CNN show, especially in prime time, has their own personality while maintaining the common thread of unparalleled journalism. Each digital strategy should be different. Luckily CNN has assembled an incredible team of digital producers (including another former Mediaite-er Mark Joyella (ed. note: holla!) at Erin Burnett OutFront) and they will lead the way for their respective programs. I'll look at certain best practices that will bolster all shows and digital plans, as well as some individual ways to maximize efforts and drive viewers to the network.
Mediaite: How have Twitter and other social media platforms specifically helped launch Piers Morgan Tonight? How would you define/prioritize your specific goals? Meaning – is it to increase viewers/ratings, or is it improving the social media footprint of each show and the network at large?
Krakauer: Twitter (and Facebook) has been huge for Piers Morgan Tonight. It starts from the top – simply put, we would not have achieved what we did on the digital side were it not for Piers Morgan himself jumping full force into the Twitter world. Piers was resistant to Twitter before we launched the show, but instantly recognized the value, and he has become the gold standard for what can be done on the platform as a journalist. Social media as a whole is important for two reasons – it drives tune-in and engagement when done right, and it establishes a community for your show to live when it isn't on air. Jonathan Wald, our executive producer and prolific tweeter in his own right, described it as a place for Piers Morgan Tonight to live the 23 hours it isn't live on the air. For CNN as a whole, we want to bring that sensibility to all the programs.
Mediaite: Charlie Sheen's late booking on Piers rated incredibly well, though it seemed to be almost solely promoted via Twitter due to his unreliability. How did that inform what you have done on Twitter moving forward, and what are some other insights you've learned in the last year on the job? What are other highlights from your job in the last year?
Krakauer: Charlie arrived five minutes before we were set to go live – promotion was held until we knew for sure that he'd be there. Piers put out his tweet, we followed suit, viewers engaged and viewership increased tremendously by the end of the show. But social media was just one part of the success – CNN.com (one of the most visited websites) was ready to promote the interview once Piers tweeted it, and was hugely valuable in driving tune in as well. CNN's PR team alerted other media and that played a role in spreading the word. It was a team effort that showed the value of digital, but also the value of having a set plan in place.
Working on the show has been an amazing experience – Oprah on day one, the various republican presidential candidates passing through the studio, the famous "Walk Off" and Michael Moore with a live studio audience town hall last night.
Have a tip we should know? tips@mediaite.com