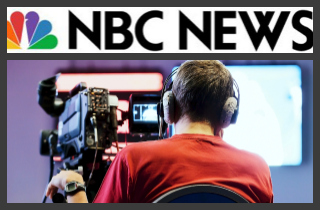 A former cameraman for MSNBC's Daily Rundown with Chuck Todd is suing his former employer, alleging he was recently fired under age discrimination.
In a federal lawsuit, 60-year-old George Hyatt claims he was fired by an NBC News Washington bureau supervisor who he overheard talking about the need to get "young blood" into the station. The camera operator had reportedly been with the network since the beginning of Todd's tenure at NBC.
In an interview with The Daily Caller, Hyatt described his former employer as "a sack full of lying weasels," and added that he hopes Todd will speak out on his behalf. In an interview with theDC, however, the MSNBC host denied any knowledge of the lawsuit and remarked that Hyatt, as a cameraman, did not fall under his supervision.
Hyatt also told TVNewser that he "initially filed a complaint with the DC Office of Human Rights for age discrimination, after exhausting every effort to regain employment at a company I have devoted 30 plus years of my life," but the case was dismissed.
TheDC reports on how NBC has attempted to dismiss the charges, claiming Hyatt was not the best of cameramen:
The motion by NBC to dismiss Hyatt's lawsuit did not address its factual claims. But in response to a complaint that Hyatt filed before his lawsuit with the District of Columbia Human Rights Commission, NBC claimed he was fired for poor performance.

NBC also denied that a manager said he wanted to hire "young blood."

According to NBC, Hyatt did not follow directions properly throughout his tenure at the "Daily Rundown." He is alleged to have frequently "over tweaked his shots," a technical term for moving the camera off the subject. NBC said that the two mistakes that his lawsuit claimed were "minor" were actually "major."

NBC said that on July 12, 2011 the camera suddenly started to "pan off" Chuck Todd when he was interviewing a guest. Hyatt did not immediately respond to shouted instructions from the director to correct the error. Producers started to yell at Hyatt and he finally fixed the shot, according to NBC.

The next day Hyatt "made the same mistake" and "allowed the camera to pan off the action."
"NBC News does not discriminate on the basis of age in making employment decisions," the network's spokesperson said.
[Images via NBC News/Shutterstock]
— —
>> Follow Andrew Kirell (@AndrewKirell) on Twitter
Have a tip we should know? tips@mediaite.com