The lower third. The chyron. whatever you call it, it's become the way for cable news shows to textually provide viewers with additional information about a breaking news story; or to provide you with a self-parodying glimpse into the bizarrely hyper-sensational world of cable news.
Take your pick.
Former MSNBC producer Henry Melcher (currently with FXX's Totally Biased) has collected some of the goofiest cable news chyrons that make you wonder what producers consider news these days.
Some of the best ones, for example: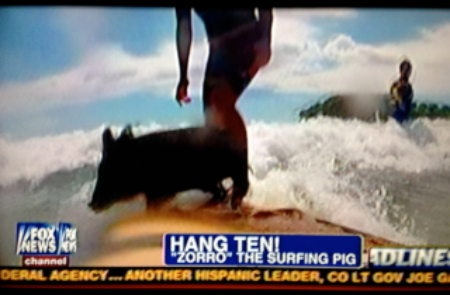 Melcher's alternate headline: "Next Up, Our Exclusive Report on the Corrupt World of Pig Surfing."
Another classic comes via this developing CNN report: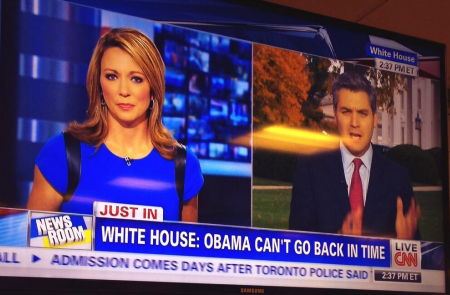 Melcher's alt-headline: "This Just In: A Startling Admission by the White House Regarding Time Travel."
Other chyrons just make you wonder whether this stuff actually happened on national television:
Alt-hed: "That's Our Star-Intern Becky Giving CPR to a Stuffed Dog."
And then, of course, local news gets in on the action with some news you can use: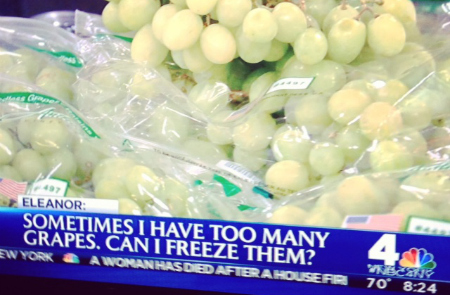 "A lot of people like to criticize cable news for fueling manufactured crises and hosting hollow debates," Melcher tells Mediaite about his inspiration for the site. "Now, for the most part that's true, but cable news also serves an important role in society by highlighting animals doing people things."
He recalls his time producing for MSNBC weekend show Up: "When I worked in cable news, we unfortunately never covered stories like the ones I feature on my site. Instead we focused on things like civilized, spirited debate. So maybe this is my attempt at being involved in the other part of cable news – the part with the surfing pigs."
Check out the full Tumblr here.
[all images via TheLowerThird]
— —
>> Follow Andrew Kirell (@AndrewKirell) on Twitter
Have a tip we should know? tips@mediaite.com