Former Navy SEAL: Axelrod Speaking 'Out Of His Jurisdiction' When Discussing Military Voting In Ohio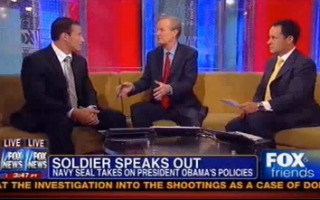 On Monday, Fox & Friends hosts Steve Doocy and Brian Kilmeade sat down with former Navy SEAL Carl Higbie to discuss the government's reaction to his book, Battle on the Home Front.
"My commanders were more concerned about how the fallout of this book would affect their careers than they were concerned about how re-electing President Obama would affect the country," said Higbie, who left the military with an honorable discharge in order to write the book.
He says that what makes his book controversial because it points that "there is an agenda on Capitol Hill. It needs to be called attention to. There are so many things right now that are destroying this country. You've got the the national deficit, which I talked about last time, but the politics on Capitol Hill, it's infiltrated the military. And I've had commanders who are saying behind closed doors, 'Hey Carl this is great, I love what you're saying,' and then turn around five minutes later in a conference call, shun me for it."
RELATED: Obama Campaign And DNC File Lawsuit Challenging Ohio Voting Law For Military Members
He also characterized David Axelrod's recent comments about voting via absentee ballot as being "out of his jurisdiction." As we've reported, the DNC and President Obama's re-election campaign have filed a lawsuit to challenge a new law in Ohio that would extend the cutoff date for members of the military to vote, arguing that the measure would create an "even playing field for all voters."
If you are deployed or in the midst of doing your duty, "you might not make it home to Ohio to vote in a timely matter," he explained.
Ohio isn't trying to give the military an "edge" in voting, he added, but, rather,"a fair shot at voting."
Have a look, via Fox News:
Have a tip we should know? tips@mediaite.com