Former NSA Director: Obama 'Fading Left' in Speech, But Keeping Most of Intelligence Program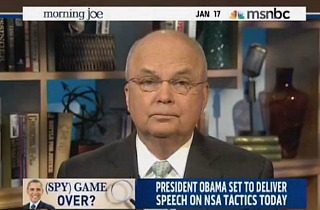 Retired Gen. Michael Hayden, the former director of the National Security Agency under George W. Bush, appeared on MSNBC's Morning Joe on Friday where he said that President Barack Obama's proposed reforms to the agency's domestic intelligence gathering techniques would not be as far-reaching as some would like. He said that the president would attempt to pacify his Democratic supporters upset with the program without significantly altering the program.

Host Joe Scarborough began by noting that he was confused by the president's response to the NSA's revelations. He said that the president expanded NSA surveillance tactics while in office, but is now attempting to reform a program that he decided were necessary to ensure America's national security and will "take them away from future presidents."
"It's certainly what makes life in the permanent government very, very interesting," Hayden said. "National security looks different from the Oval Office than it does on the campaign from a hotel room in Iowa."
"Those who oppose the programs – and good Americans all – those who oppose them wanted to blame them on a particular president; President [George W.] Bush," he continued. "It's not George Bush's program anymore. It's America's program."
"I do not criticize candidate Obama for being ignorant of the realities that a commander-in-chief faces every day," Scarborough added. The host said he was disturbed by Obama's apparent desire to curtail the ability of future presidents to use a program Obama has relied upon to keep Americans safe.
"I think what we're going to see in the speech, Joe, is all the language in the speech kind of fading left about transformation, and transparency, and checks and balances, but frankly I think the substance of the speech is going to be about holding his ground," Hayden supposed.
He added that he did not think America's intelligence agencies would not be doing anything "different" next week as a result of Obama's reforms.
Watch the clip below via MSNBC:
[Photo via screen grab ]
— —
> >Follow Noah Rothman (@NoahCRothman) on Twitter
Have a tip we should know? tips@mediaite.com