Former NY Times Columnist Vents On GOP: 'This Is A Party That Wants To Do Harm' To Blacks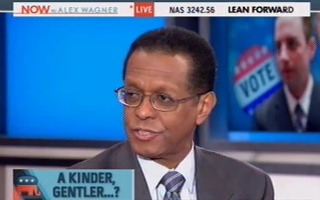 Bob Herbert, a former syndicated columnist with the New York Times, appeared on MSNBC's Now where he lashed out at the Republican Party's outreach efforts towards minorities. He dismissed the Republican Party's efforts to repair their image among minority voters and lambasted the GOP as "relentlessly hostile" to the interests of African-Americans. Herbert charged that the GOP as a party "wants to do harm" to the interests of black Americans.

RELATED: Race-Obsessed MSNBC Panel Accuses Black GOP Senator Of Benefiting From Republican 'Affirmative Action'
Host Alex Wagner turned to Herbert for his impression of Republican National Committee Chairman Reince Priebus' effort to reach out to African-American Republicans in Brooklyn.
She noted that liberal columnist Jamelle Bouie who, writing for The American Prospect, said that the GOP's problems with minorities stem from the fact that conservatism is "associated with a rabid hostility to Barack Obama that reads as prejudiced to many African-Americans."
She then quoted The Daily Beast columnist Peter Beinart who wrote "there's something deeply patronizing about the GOP's assumption that, while its voters are motivated by ideology, Latino and Black Democrats act merely on ethnic or racial affinity."
"How did Priebus find 20 black Republicans in Brooklyn?" Herbert joke to the laughs of his fellow panel guests. "This is a party that has been relentlessly hostile in its policies to the interests of black Americans and other ethnic minorities, at least since the era of Richard Nixon and the Southern Strategy. I mean relentless."
"All you have to do is look at the [Paul] Ryan budget proposal and you will see: this is a party that wants to do harm to the interests of African-Americans," Herbert continued.
Rana Foroohar, TIME Magazine's assistant managing editor, agreed. "I think that the core problem is that there is no economic ideology beyond trickle down, which has clearly failed," Foroohar added. She concluded by saying that she lives in Brooklyn and the only home she can recall seeing a campaign poster for Mitt Romney was the subject of an egging.
Watch the clip below via MSNBC:
> >Follow Noah Rothman (@NoahCRothman) on Twitter
Have a tip we should know? tips@mediaite.com